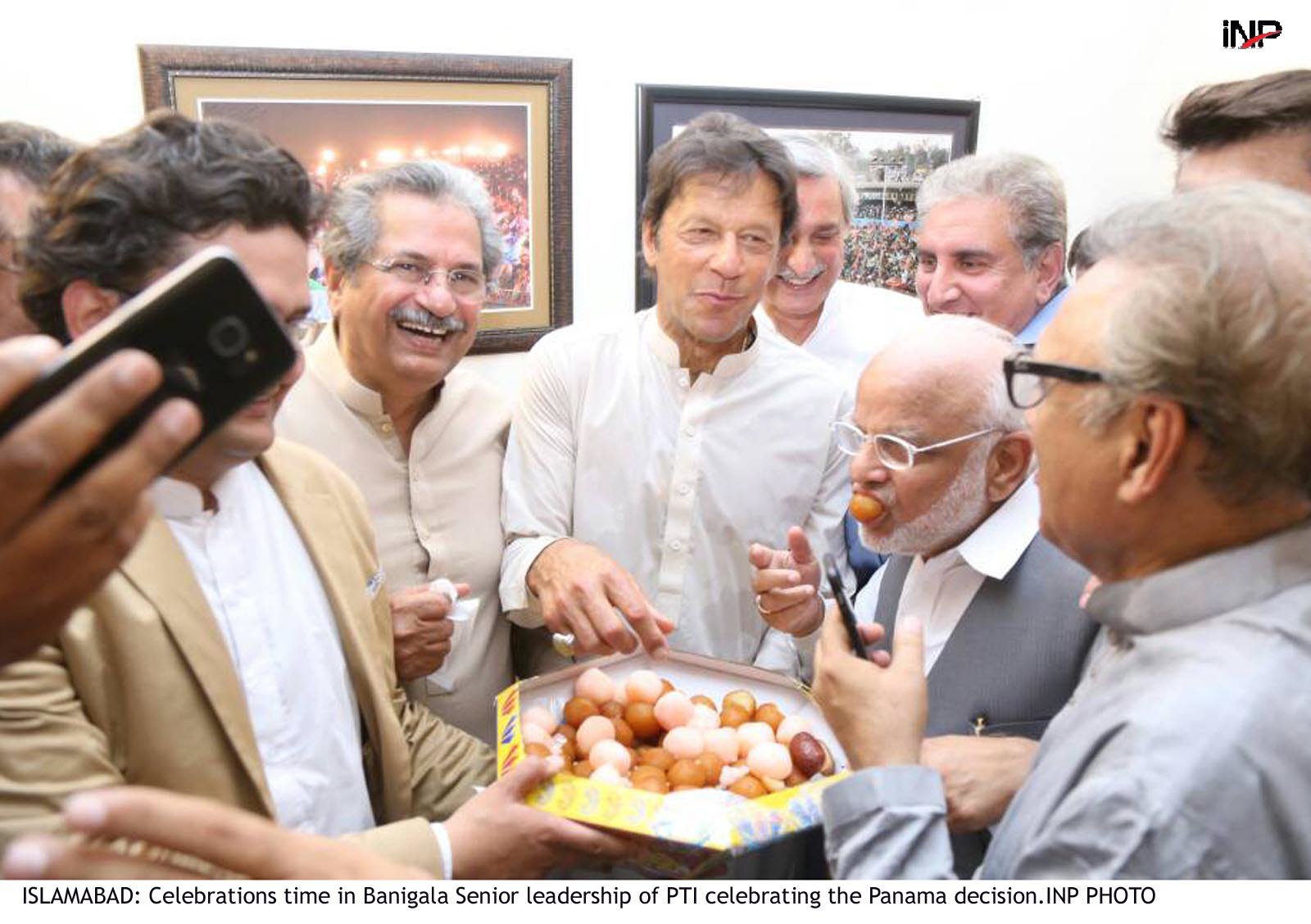 ---
ISLAMABAD: The two main opposition parties – the PTI and the PP – may have a different interpretation of the Supreme Court verdict in the Panamagate case, but they were united in their call for the prime minister, Nawaz Sharif, to step down as he has lost the moral authority to stay in power.

While PTI Chairman Imran Khan called it a 'historic judgment' and 'thanked' the apex court on 'behalf of the people of Pakistan', PPP Co-chairman Asif Ali Zardari said "the nation has been deceived".

"Today, I congratulate the apex court's judges on behalf of the people of Pakistan for this historic verdict. I accept the decision. Two senior-most judges have announced disqualification of Sharif and I was not expecting anything more," Imran told a news conference outside his residence in Bani Gala shortly after the court announced the judgment.

All five judges have dismissed and disqualified evidence of money trail provided by the Sharif family's counsels, he said and added that the decision to form a JIT means that any evidence they tried to present has been proven a lie.

"What moral authority does Sharif have to stay as prime minister? We ask him to step down as investigations are ongoing against him," he said.

Imran said Sharif would definitely influence the state departments, except for two military departments, which would be part of the JIT.

Nawaz survives to see another day as SC orders probe into corruption allegations

"The SC has said that the National Accountability Bureau (NAB) stands with the corrupt; except for army institutions all other institutions are under Sharif's influence, so he must resign," he said. "It will otherwise be an insult to the nation if he remains the prime minister during investigation."

He said the SC revealed that NAB and other institutions failed in this instance, so how can they investigate Sharif if they are under his influence? "He will not let these institutions work as it will mean the end of his political career," he said.

He said JITs probe criminals like Uzair Baloch. He asked the nation to imagine the prime minister being investigated in a similar fashion.

Imran said Sharif should follow the advice he had given to former premier Yousuf Raza Gilani when he was facing contempt of court proceedings for not writing a letter to the Swiss authorities.

He thanked PTI workers saying that without their historic struggle on the streets such a decision would not have been made possible.

[fbpost link="https://www.facebook.com/etribune/videos/1815413851808966/"]

He said further investigations by the JIT would unfold many other stories of fraud and corruption. "The Hudaibiya Paper Mills case, Ishaq Dar affidavit and all other corruption cases will open up now," he said.

He said he failed to understand what N-league was celebrating about as five judges said none of their clarifications were sufficient and two senior judges, who are future chief justice candidates, have declared the prime minister to be disqualified because he is no longer 'honest' and 'truthful' (Ameen and Sadiq).

Furthermore, PTI will observe a thanksgiving day today (Friday).

PTI decides to swing into election mode

PPP not impressed



"Today the nation has been deceived," former President Asif Ali Zardari said in a presser held at Zardari House in Islamabad soon after the judgment was released. He, however, seconded PTI chief's demand that Premier Sharif resign on moral grounds.

"On what grounds is the PML-N celebrating and distributing sweets? Are they celebrating that two senior judges called for the prime minister's disqualification?"

The PPP co-chairman said legal experts of his party pored over the judgment before coming up with a conclusive stance.

The PPP, which was voted out in 2013 general elections after five years of rule marred by allegations of corruption and mis-governance, still holds coveted offices of leaders of the opposition in both National Assembly and Senate. Leader of opposition in NA Syed Khursheed Shah has called a meeting of all opposition parties before the session on Friday (today).

The PPP, during this meeting, would convince other opposition parties, including the PTI, to formulate a joint strategy in parliament to give the government a tough time.

Through this attempt, the PPP would like other opposition parties coalesced for a joint effort to dislodge the PML-N government through political pressure.

PTI's attempt to force prime minister to quit through street agitation during the past three years had failed. At a crucial time during PTI's 2014, 120 days sit-in PPP had rescued the government. However, this time it has been hinting at the opposite. Zardari in his recent public statements has been saying he was ready to join hands with the PTI and other opposition parties for a decisive round.

[fbpost link="https://www.facebook.com/ImranKhanOfficial/posts/1882275401814871"]

PPP demands PM Nawaz's resignation

The two sides, however, differ over taking the driving seat in this effort. Zardari has time and again expressed his desire to lead such a maneuver provided PTI agrees to PPP's ascendency.

It blames PTI's maverick attitude and its chief's tough tone against PPP leadership for failure to conjure any formidable challenge to the incumbent Nawaz League government by opposition parties.




Like other parties, Zardari did not give a conclusive stance on the judgment. He appreciated the two dissenting judges but was critical of the judgment as a whole.

He reminded Khan that his party was against moving the court on the matter and now his stance has been vindicated. "We had tried for probe through a commission but they did not listen to us," he remarked referring to aborted attempt by his party to bring a new law on inquiry commission after SC last year declined a probe through existing 1956 commission of inquiry law.

The government in the meantime is in the final stages of passing its bills on inquiry commission.

"Those celebrating the decision should be ashamed of themselves. I have said this a number of times, if Pakistan is not safe in the hands of Sharif, it's not safe in the hands of Khan either," Zardari stated.

PPP senator Aitzaz Ahsan said the decision of the two judges stands as the SC's decision. "The other three judges did not object the decision of Justice Khosa and Justice Gulzar." He added that constituting a JIT is tantamount to giving the premier a safe exit.
COMMENTS (2)
Comments are moderated and generally will be posted if they are on-topic and not abusive.
For more information, please see our Comments FAQ