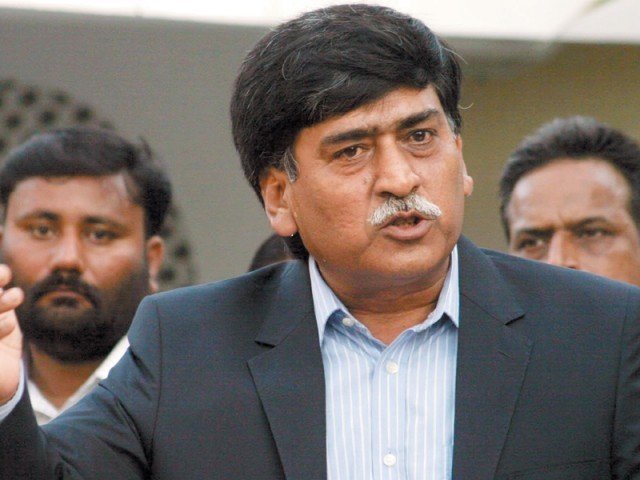 ---
KARACHI: Muhajir Qaumi Movement - Haqiqi (MQM-H) chief Afaq Ahmed urged on Wednesday former president and Pakistan Peoples Party (PPP) co-Chairperson Asif Ali Zardari not to politicise the issue of Rangers deployment in Sindh.

Addressing a press conference at his residence in Defence Housing Authority, Ahmed said uncertainty about the paramilitary force's policing powers in the province is causing unrest among the people. "Residents of Karachi look towards the Rangers for their security because it is due to the paramilitary force's efforts that peace has been restored in the city," Ahmed said, adding that the police are not capable enough to maintain the law and order.

Law enforcement: Summary moved to extend Rangers' powers

Ahmed said the paramilitary force was summoned in the city in 1989 when the law and order situation went out of the police's control. "The government should have strengthened the police department but it never did so," he claimed.

Referring to the alleged arrest of three close aides of Zardari by federal law enforcement agencies, Ahmed said this modus operandi of agencies was condemnable and those said to be arrested should be taken to court if they have done something wrong.

The MQM-H chief said his party and the people he claims to represent had seen the most of such forced abductions. That is why, Ahmed said, he could understand the situation the families of those missing have been facing.

Three Zardari aides go missing in a week

"I ask Zardari and the PPP not to use this matter as a bargaining tool in the Rangers' policing matter," he said, adding that by letting the matter linger, the provincial government was putting people's lives in danger.

Speaking about the paramilitary force's reply to the home department over providing security to sensitive installations under Article 147 of the Constitution, Ahmed said that everybody, whether an individual or institution, should act within the ambit of the law.