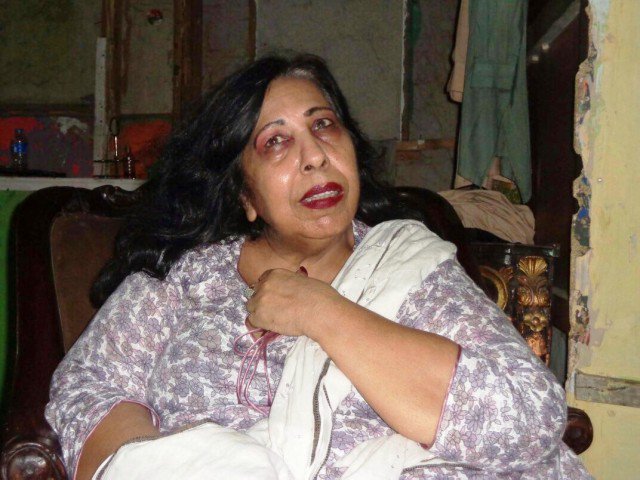 ---
LAHORE: Naheed Khanum – one of the pioneers of Punjab's commercial theatre was remembered by her fans and contemporaries during a Taziati Reference on Monday evening. Held at Alhamra Hall in Lahore, the ceremony was attended by a plethora of artists from Lahore's stage fraternity.

Showbiz personalities including Amanullah Khan, Irfan Khoosat, Anjuman, Bina Sehar, Qaiser Hussain, Qaiser Sanaullah Khan and Iftikhar Thakur were present at the event organised by the Asian Cultural Association of Pakistan.

Renowned stage artist Naheed Khanum passes away

"Naheed Khanum started directing and producing plays at a time when there were only a few people involved in the theatre industry. She did amazing work throughout her career and introduced many actors on stage who are now doing so well. We will never forget her services to the entertainment industry," stage actor Amanullah told The Express Tribune.

Khanum, who passed away last month at 68 years of age is most revered for introducing new talent to the industry, some of whom – namely Amanullah, Shoki Khan, Mastana, Tariq Tadi, Zafri Khan, Naseem Vicky, Shiba Butt and Bina Sehar – went on to become household names. "She introduced me on stage when she was not at the best of her health and she kept on guiding newcomers till her last breath. Her death is a big loss for the theatre industry," said Sehar.

Khanum hailed from a family of artists, with nearly 50 years of service to the local theatre circuit under her belt. Her mother Parveen Begum was also a popular film actor from the pre-Partition era while her son Ali Raza is currently working as a stage producer in Lahore. Khanum's sister Anjuman is also an actor.

Pakistani cinema has not given a single hit song recently: Shabnam Majeed of 'Supreme Ishq' fame

During her lifetime, Khanum wrote and directed hundreds of stage plays, including hits such as Kaali Kalooti De Nakhre Bare, Time Pass, Ishq Nachaya and Hello Uncle. "Naheed Khanam produced and penned over 1000 plays. She was a noble and well-respected lady. She was indeed the real success story of our theater industry," said theatre producer and director Sanaullah.

According to Amanullah, the world needs more artists like Khanum. "There is a dire need for stage artists like her, especially nowadays when commercial theatre is facing challenges," he added. Echoing his sentiments, Khoosat claimed Khanum helped transform the theatre industry. "She gave a new dimension to stage and brought it forward as the best avenue for public entertainment. Not only were her plays always commercially successful but she was also well aware of the changing trends in the industry," mentioned Khoosat.

The unheard plight of Pakistani playback singers

"How we can forget the lady who did so much for the welfare of our stage industry. Asian Cultural Association will always organise such events in the memory of those artists that struggled for the benefit of stage, film and drama," said President Asian Cultural Association of Pakistan, Syed Sohail Bukhari.

Have something to add to the story? Share it in the comments below.