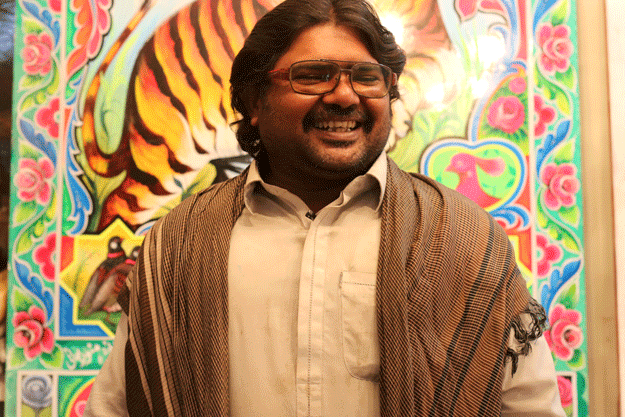 ---
KARACHI: Some artists attend top-notch institutes to polish their flair. Others are born with innate talent. Truck artist Haider Ali, who is now the CEO of Phool Patti, falls in the latter category.




Having practised truck art for 28 years so far, Ali has been making an impression across the globe as his organisation, Phool Patti, aims at promoting truck art around the world.

Currently, he has been working on decorating the walls of New Islamabad International Airport, he told The Express Tribune. He also teaches truck art at Indus Valley School of Art and Architecture as a visiting faculty member.

Pakistani truck art through camera lens

Ali talked about how truck art has evolved over time. "Since childhood, we have seen tourists visiting the local workshops and taking truck art on different souvenirs," he said. "Now it can be seen even on lawn prints, walls designs, crockery, et cetera."

According to Ali, artists work on a truck from scratch. Truck owners often let the artist decide the design, he adds. "But it gets tough when the client demands a particular area, city or scenic view to be painted," he said. "[If] you haven't seen or visited [the particular scene], creating it from your imagination was always challenging, yet fun."




The artworks, often paired with verses of poetry, calligraphy, popular phrases or portraits of famous personalities, represent the truck driver's identity and regional background, explained Ali. The artwork also includes religious imagery, national heroes and landscapes, he added.

21 exquisite pictures of Pakistani truck art

"Painting portraits, such as those of famous celebrities like Gen Raheel Sharif, Attaullah khan, Madam Noor Jehan, is one of the most challenging aspects of truck art," he said. "But when clients demand portraits of themselves or their kids, it becomes a tougher challenge." He added that in such cases, people take a closer look to inspect and compare if the painting actually looks like them.




Ali's family has been practising truck art for the last 60 years. "Truck art represents us [Pakistanis]," he said. "We have mastered the art and it depicts a positive image of Pakistan before the world. We will continue with the tradition forever."

The big picture

Ali sees a bigger picture through truck art – he believes it can help diminish unemployment. If authorities from different countries allow such artwork on local transport and private cars, it will create more jobs around the world, he says.

Truck art: A slow ride

Talking about his first foreign visit in 2002 in which he, along with his team, exhibited truck art at the 'Smithsonian Folklife Festival' in Washington and won the prize, Ali said winning the prize for truck art was the biggest achievement for him and his parents. "My father distributed sweets among all, moved by the fact that their talent has been recognised globally."

Ali has more achievements to his credit. He has decorated the Canadian Parliament, Wall of Berlin, Duragh Pooja in India and many different projects in Turkey, Paris, UK and US. Talking about these, Ali said he wished his father were alive to see his achievements. "He would've been very proud of all of my achievements."

For Ali, truck art has sentimental value. According to him, you won't find anything other than love in the verses that are painted in their artworks. "Verses like 'Pyaar tay karaan par tankha bari thori hai [We love but our wages are minimal] show the emotional bond between truck owners and their trucks," said Ali.

[/fbvideo]
COMMENTS
Comments are moderated and generally will be posted if they are on-topic and not abusive.
For more information, please see our Comments FAQ