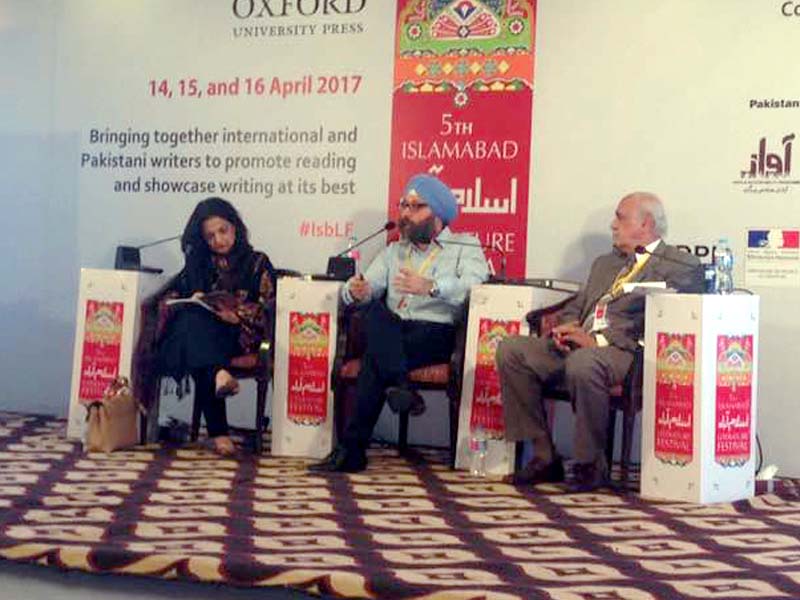 ---
ISLAMABAD: For Amardeep Singh, legacies are bigger than religion. But roots and heritage are very important too because if the roots are missing, one really cannot create anything.

His book 'Lost Heritage: The Sikh Legacy in Pakistan', presented on the second day of the fifth Islamabad Literature Festival, presents the myriad of facets of Sikh legacy in Pakistan.

Amongst the array of literature festivals in the country in recent years, this was probably the first time that Sikh legacy and heritage got centre stage. Fakir Syed Aijazuddin, an internationally recognised art historian and author, was also on the panel to discuss the matter.

An author who was born in India and now based in Singapore, Singh is on a solo journey in search his community's roots. A search which has now landed him in Pakistan.

Heritage found: New book recaps rich history of Sikhs

Explaining his drive to journey all the way from Singapore to Pakistan, Singh said that there always was a hunger within him to determine the history of the region, especially, when his father used to reminisce about the value of what he had to leave behind in Muzaffarabad, Azad Jammu and Kashmir, or what his mother had to sacrifice in her ancestral Abbottabad.

As a result, Singh said, time and again he found himself studying the history of Punjab, Khyber, Sindh, and Kashmir. Hence, one question kept constantly buzzing at the back of his mind – political issues aside, if you had a free access to go to Pakistan, where would you go?

The answer young Sikhs gave him would always revolve around the two main gurdwaras in Pakistan, the Guru Nanak Sahib or Panja Sahib.

"When you say you want to see Nankana Sahib and Panja Sahib that means today Pakistan is like Makkah and Madina for Sikhs," he said, adding that many had reduced the entire legacy of the Sikh community in these lands down to just religion.

He, however, was of the view that their "legacies are bigger than religion".

While discussing the Partition, he disagreed with the idea that it was just the partition of India; rather, he said he viewed it as the partition of Punjab and Bengal and that the Hindus, Muslims and Sikhs suffered on both sides as people moved across the newly formed borders.

Sikh pilgrims visit Peshawar museum

"As people moved, the first generation fell quiet. The second was lost. The third generation, people such as myself, started questioning what our roots are," Singh said.

Talking about preserving the Sikh heritage in Pakistan, Singh said over 80 per cent of the then Sikh empire existed in modern-day Pakistan. But 70 per cent of this heritage had now crumbled into dust. The rest, he said, would require a partnership with the government.

Noting that the Pakistan government was actually keen on preserving this heritage, Singh said Islamabad could capitalise on it by turning the sites into tourist magnets.

"Sikhs will pay money from their pockets ... open it [Sikh heritage sites] up, restore it, it's your heritage now."

Pointing out that Bulleh Shah was a Punjabi and a contemporary of Guru Gobind Singh, he said, "whatever we might write the history today, whatever we may suppress, we can't suppress the Sikh era."

Aijazuddin said that those who forget their history are condemned to revisit it. He said that the trauma of 1947 had left a scar of human tragedy on both the sides with people today turning their backs on their heritage.

Replying to a question, Singh said, "a Sikh walking in Pakistan today is like a Bollywood star. I have only seen love and affection here."

Published in The Express Tribune, April 16th, 2017.
COMMENTS
Comments are moderated and generally will be posted if they are on-topic and not abusive.
For more information, please see our Comments FAQ