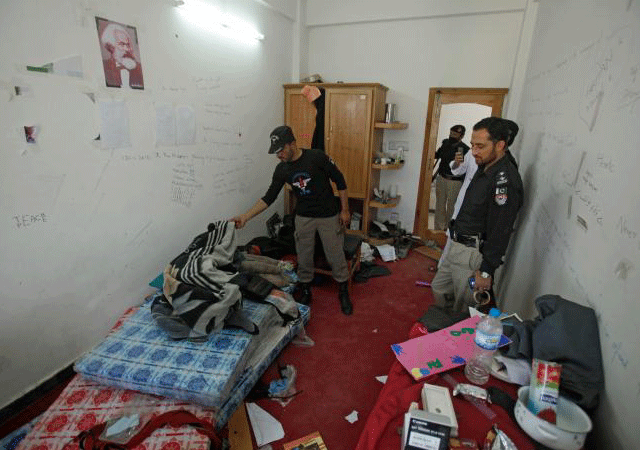 ---
PESHAWAR: In the wake of Mashal Khan's horrific mob murder, which stemmed from rumors that he had been posting 'blasphemous content' online, some panicked social media users have taken to Facebook to inform friends to keep a lookout for fake profiles in their name - just as Khan had done in December.

The status, "I don't have another Facebook account and if someone sends you a request with my ID and display picture, please report to me," has started trending on local Facebook.

The trend started after Khan's December 23 status telling his Facebook friends that someone had made a fake profile in his name and to malign him was widely circulated. Khan, a journalism student at the Abdul Wali Khan University Mardan was mercilessly lynched to death on campus by a mob of fellow students on April 13, after being accused of spreading 'blasphemous content' online.

Mardan university student accused of blasphemy beaten to death on campus

Khan's status, which has so far been shared on the social media site more than 400 times, reads:

"Somebody has made a fake account with my name. And the person seems to be amongst our friends who is trying to send fake texts from the id with my name to His another fake id which is on a girl's name and is trying to blackmail me with that. Watch out friends. Someone is trying to show my image negative."

Cell phone videos of the gruesome murder show Khan's severely tortured and blood covered body being dragged first in a hallway and then on a road on the campus. Thousands of students reportedly participated in the lynching.

The graphic video was shared widely on social media and triggered widespread condemnation from civil society, rights activists, politicians and the Khyber-Pakhtunkhwa government, which ordered a judicial inquiry of the incident.

"We have yet not found any blasphemous material in the case," K-P Chief Minister Pervez Khattak told the lawmakers in the house on Friday.

'Imam refused to lead Mashal Khan's last rites'

However, the harrowing lynching video, which went viral, has cautioned thousands of local social media account holders to request their online friends to keep an eye out for fake profiles.

"Anyone can make a fake ID any time and that can lead to serious problems," a Facebook user who posted one such message told The Express Tribune. "I did this after reading Khan's status but nevertheless this should be done so that people know that I have only one account."

He requested not to be named because of the matter's sensitivity.

Another user was also of the same view. He added that the biggest issue was also fake accounts made by people who use women's pictures in their profile photos to entrap and sometimes even kidnap people.

"I think this is beyond the government's access and Facebook headquarters should look into the issue and should thoroughly investigate account request before approval," he said.

A K-P senior security official told The Express Tribune, they had scoured through Khan's cell phone communication and his social media pages and did not find any offensive content.

The cyber crime unit could not be reached for comment.

Staying safe on the internet

There is a serious lack of understanding of how easy it is to make fake profiles and how easily photo-editing software can doctor images, said Nighat Dad, rights activist and the founder of the Digital Rights Foundation.

Fake Facebook Profile: FIR sought against four suspects  

Fake profiles are the most common complaints Dad has received from people reaching out to her organisation for help. "It is very easy to make fake accounts in someone's name and post things pretending it's them," she said. "It's an easy way to create hate for you especially among a group of people who may have issues with your views."

The narrative around blasphemy has been created in a way that it is very easy for people to take the law into their own hands, she added.

Dad said she had gone through Khan's personal page and the one that he was an admin for and didn't find any anti-religion posts. Instead he posted about humanity, women's rights and animal rights.

She suggested people should search for their email ids and phone numbers in the search bar of social media sites and Google their names regularly to look out for any fake profiles that may be working in their name.

"If you see a fake profile, please report it to the person and the government's cyber-crime wing," Dad suggested, adding it was also important to take screenshots of the account so that the authorities have some sort of proof to work with.
COMMENTS (13)
Comments are moderated and generally will be posted if they are on-topic and not abusive.
For more information, please see our Comments FAQ