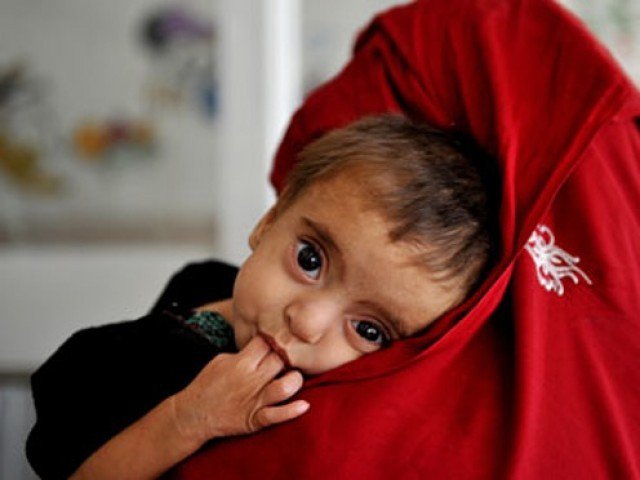 ---
GILGIT: Chronic malnutrition causes debilitating effects, diminishing human intellectual capacity, physical growth and economic drainage, say nutrition experts.

This was explained at a workshop organised by Gilgit-Baltistan (G-B) Department of Planning and Development's  Scaling Up Nutrition (SUN) unit on Sunday at a local hotel.

Malnutrition costs Pakistan $7.6b per year, study

The workshop was to provide information and data  to provincial line departments including  health, population welfare, agriculture, food, livestock, fisheries, education, social protection, women, civil society alliance, and academia of Karakoram International University about economic consequences of malnutrition in Pakistan as per the statistical indicators of National Nutrition Survey 2011.

During the session, SUN Program Consultant Dr Nadir Shah told the participants that malnutrition caused 3% annual GDP loss to the national economy which was less than the 2% from energy crisis.

He stressed on the need to accelerate the currently cost effective process of intervention by flour fortification. An investment of one dollar earns eight dollars in return, while successful holistic interventions in global practices have shown that  a dollar invested earns 16 dollars in return, he said, explaining how nutrition improvement was the most suitable investment to sustain national economy and human capital.

The workshop participants gave updates about the work being done in their respective and also made suggestions.

'Malnutrition has lifelong impact on health, economy'

There was consensus among the participants on the need to revert to organic farming and minimising the use of harmful pesticides which contaminated food.The need for a healthy life style in addition to a balanced diet was also stressed.

Earlier in a message    Planning and Development Secretary Babar Aman Babar and UNICEF Chief Consultant for GB Dr Samia Hashim assured their sectorial support in the execution of an integrated nutrition strategy for GB.

Social Sector Deputy Chief Mohammad Baqir emphasised the need for inter-sectorial collaboration to achieve the targets and objectives SUN had set for GB.

Published in The Express Tribune, April 10th, 2017.