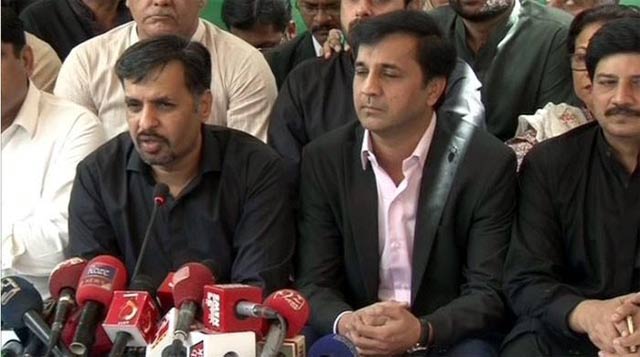 ---
KARACHI: Another Muttahida Qaumi Movement (MQM) dissident, Irtiza Khalil Farooqui, has joined the Pak Sarzameen Party (PSP).

"We welcome Irtiza Farooqui [in our party]," PSP chairman Mustafa Kamal told reporters in Karachi on Friday. He was flanked by Farooqui,a former sector in charge of Shah Faisal Colony, and other party leaders.

Our objective is not to gain power but to serve the masses, regardless of their colour and race, added the former Karachi mayor.

Another MQM MPA jumps ship to PSP

"Why should I bear the punishment for someone else's [MQM founder Altaf Hussain's] sins by staying away from my homeland?" Farooqui, who was elected as an MPA from PS-119 on the MQM's ticket in the 2013 general election, said.

"From today, I have joined the caravan of Mustafa Kamal and Anis Kaimkhani," he said, asserting that neither was he in contact with the Dr Farooq Sattar-led MQM-Pakistan nor Altaf's MQM-London.

The announcement came barely two weeks after MQM's Sheikh Abdullah, another elected MPA from PS-97, jumped ship and joined the PSP.

"I heard the recent speech of MQM founder Altaf Hussain and decided that I had had enough of the propaganda against the country," said Abdullah, who just returned to Pakistan after more than a year.

Mustafa Kamal makes 16 demands for Karachi

Kamal's party, which was formed in March 2016, listed on Thursday 16 demands for uplift of the city and vowing to continue his protest till they are met.

"We will not retreat and will continue this movement for the rights [of Karachi] till our last breath," the Kamal said as he announced to stage a sit-in outside the Karachi Press Club.

Following the presser, Farooqui visited the PSP's ongoing protest, and criticised leaders of both the factions of MQM - London and Pakistan.

Kamal has claimed that a number of MQM's provincial and national lawmakers are in contact with him to join his party.
COMMENTS
Comments are moderated and generally will be posted if they are on-topic and not abusive.
For more information, please see our Comments FAQ