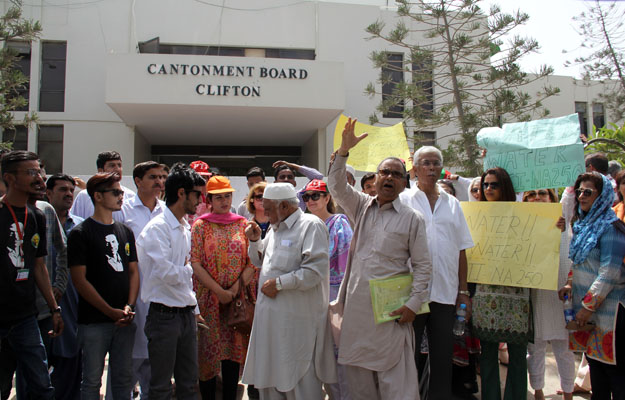 ---
KARACHI: 'Pani do, hamain pani do, CBC tum doob jao! [Give us water, give us water, CBC you should drown]' was one of the slogans being shouted by irate Defence Housing Authority (DHA) residents Thursday morning outside the Cantonment Board Clifton (CBC) office.

At least 200 residents gathered at the office on Khayaban-e-Rahat to hold a three-hour-long peaceful protest against the attitude of the senior CBC officials.

"There are choked lines and no water comes to our houses. We pay for the tankers but now they have asked us to pay another tax of Rs500. We will not have this," declared Mona Noor, who has been living in the locality for the past 20 years.

Punjab stealing Sindh's share of water: farmers

The residents say they pay water tax but are not being supplied water and are now being further burdened with an extra tax for water supply.




On Wednesday, when architect and Pakistan Tehreek-e-Insaf (PTI) MPA for PS-113, Samar Ali Khan, lodged a complaint at the office and went to meet CBC CEO Sajjad Khan, he was told to leave by a senior CBC manager. This ill-treatment could not be tolerated by the crowd, whose protest began over their water woes but then became about the CEO's behaviour.

"This culture has to change. They are certainly not our masters - they are public servants, sitting here to serve us. We are paying them to serve us, but in the end we are not even getting the services. In the end they advise us, 'if water woes are troubling you why don't you leave DHA and live somewhere else'. Who are they to give us this suggestion?" questioned resident Asad IA Khan. This idea was floated by CBC's additional CEO, Arfeen Minhas, said a resident.

"We sometimes have to bribe people to get water and now there is this new tax. We have lost track of the number of times we have lodged complaints with CBC but to no avail," said designer Shehla Rehman.

Shortages galore: 'Insane, unsustainable policies' behind water crisis, says Senators

"When I was trying to place a suction pump in my house, my husband said to me 'Do you really plan to do such a petty theft?' We had a row over it but sadly the issue of water crisis by the management has never been resolved," lamented another resident, Almas Sheikh.




The residents wanted to meet the CEO and had three points they wanted him to address: withdraw the Rs500 tanker charges, supply water and tender an apology for his rude behaviour. Standing peacefully outside the office, they told the guards to call the CEO to meet them. We are not here to vandalise this place, they said, we only want to speak to the CEO. However, despite repeated promises, Sajjad never came to meet the residents. Many protesters were questioning what the CEO was scared of and why he refused to speak to them.

While standing in the blazing sun, resident Saniya Shahid proclaimed, "We are standing in the hot sun, while [the CBC officials] are sitting nicely inside their offices".

Another resident was angry at CBC's lush garden, saying they do not even provide enough water for people to live, let alone water their plants.

PTI boycotts IMC session, protests water shortage

"When the CBC is taking money from us, it is their obligation to provide water. If they do not fulfil this obligation, we will peacefully protest till our voices are heard," said Colonel Sikander, who has been living in DHA for the past six years.




"CBC Vice-President Aziz Suharwardy is not here. He is a PTI member and should also be here at this protest," pointed out resident Jahazaib Aslam.

PTI's MPA for PS-112, Khurrum Sher Zaman, told the crowd that they would protest every day till the issue is resolved. "Our water woes have grown tenfold - when we inform the minister, he directs us to go to CBC. When we go to CBC, it directs us towards the water board. Where are we supposed to go?" demanded PTI MPA Seema Zia.

The residents plan to stage another peaceful protest at the CBC office today (Friday) as the CEO did not come out and meet the protesters on Thursday. If the issue is not resolved, they plan to take the issue to the Karachi corps commander and then to the court.
COMMENTS (2)
Comments are moderated and generally will be posted if they are on-topic and not abusive.
For more information, please see our Comments FAQ