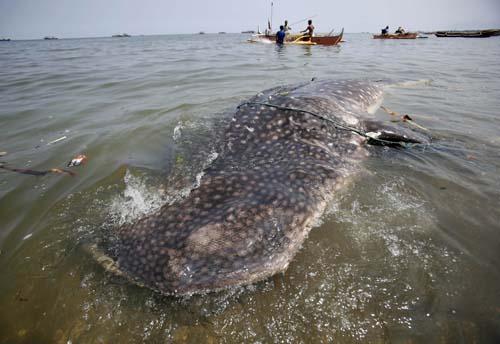 ---
KARACHI: A whale shark was reportedly caught from the Chashma Goth beach in Ibrahim Hyderi late Wednesday night.

The 16-foot-long shark, which weighed between three and four tons, was brought to the Karachi fish harbour on Thursday.

Giant tiger shark captured by fishermen

An official of the fisheries department told The Express Tribune that since catching big fish is banned, there will be an investigation into how and where the fish was caught and whether it was alive when caught.

Fines will be imposed if any violation is found, he said. "It was reportedly purchased by some traders for Rs12,000," the officer added.

The whale shark is a slow-moving filter-feeding carpet shark, one of the largest known extant fish species.

Last year, a 14-feet long whale shark died after getting entangled in a fishing net near Pasni, Balochistan.

Fishermen catch rare Longman's beaked whale off Thatta's coast

The fish was taken to a nearby harbour, where locals said it was cut into pieces. Scores of people rushed to the harbour to catch a glipse of the massive fish.

The marine experts have appealed fishermen not to kill these harmless sharks found in Pakistani waters.


COMMENTS (1)
Comments are moderated and generally will be posted if they are on-topic and not abusive.
For more information, please see our Comments FAQ