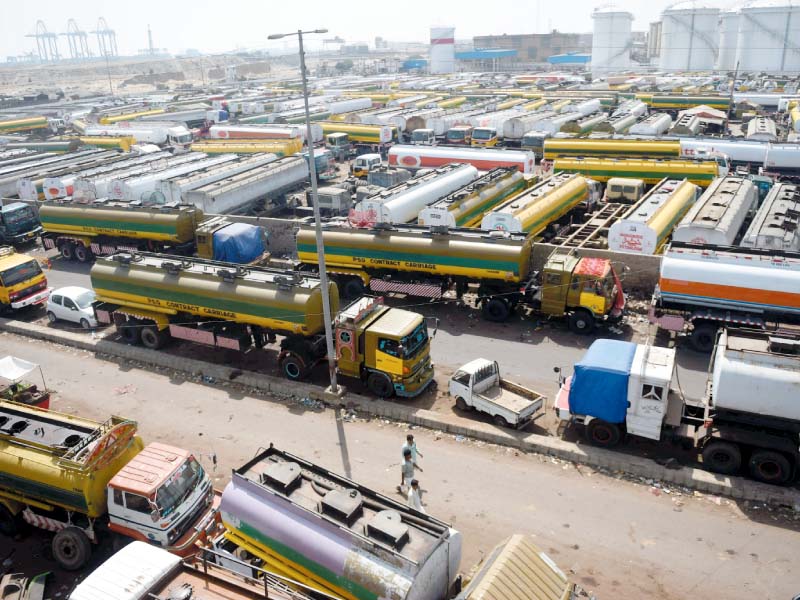 ---
ISLAMABAD/ KARACHI: The provincial governments have agreed to defer imposition of double sale tax till June 30 on the demand of the oil tankers association, which had been on strike for the last four days in protest against imposition of 16 per cent sales tax on fuel transportation.

Collection of the sales tax – imposed months back in current fiscal year – was deferred to avoid any oil crisis in the country. However, the oil transportation association had been on a wheel-jam strike since Friday-evening, causing a shortage of fuel in many parts of the country.

However, the crisis was apparently resolved on Tuesday after successful negotiations between the Ministry of Petroleum and Natural Resources and the Oil Tankers Contractors Association (Otca).

"The government has assured the association that recovery of the tax has been postponed until June 30," said Otca President Babar Ismail after the talks.

Current account gap to widen faster with oil price increase

Speaking to media, Minister for Petroleum and Natural Resources Shahid Khaqan Abbasi said imposition of 'double taxation' on services was a provincial matter.

"Imposition of double general sale tax on inter-city transportation on POL [petroleum oil lubricants] products is a provincial matter. The provincial governments should evolve a strategy to resolve the taxation issue permanently," he added.

He said a 10-member committee had been formed to look into the matter. "Director General Oil Abdul Jabbar Memon will head the committee while Otca and provinces will also have representation in the committee to sort out the issue," he added.

Abbasi said there was no fuel crisis in the country, adding that 21-day fuel was available in the country.

Other government officials and oil marketing companies also dispelled the impression that there was any shortage of fuel and said the marketing companies had sufficient reserves of the POL products.

However, impact of the strike could be felt on Tuesday as it coincided with routine shutdown of CNG fuel pumps in Balochistan and Sindh, including Karachi.

Oil prices likely to rise up to Rs13 per litre

Prior to the meeting, Otca's Senior Vice Chairman Shams Shahwani said they would continue the strike till the provincial governments issue a notification regarding withdrawal of the tax.

"Each oil tanker pays Rs10,500 in taxes and duties when it goes from Karachi to Khyber-Pakhtukhwa and returns to Karachi," he said, adding that the association supplies oil nationwide on behalf of some 18 oil marketing companies.

Pakistan is a net importer of oil. It fulfills 25 per cent of its needs through local resources, while 75 per cent of its oil demand is met through imports. Karachi, being a seaport, plays a crucial role in import and supply of oil upcountry.