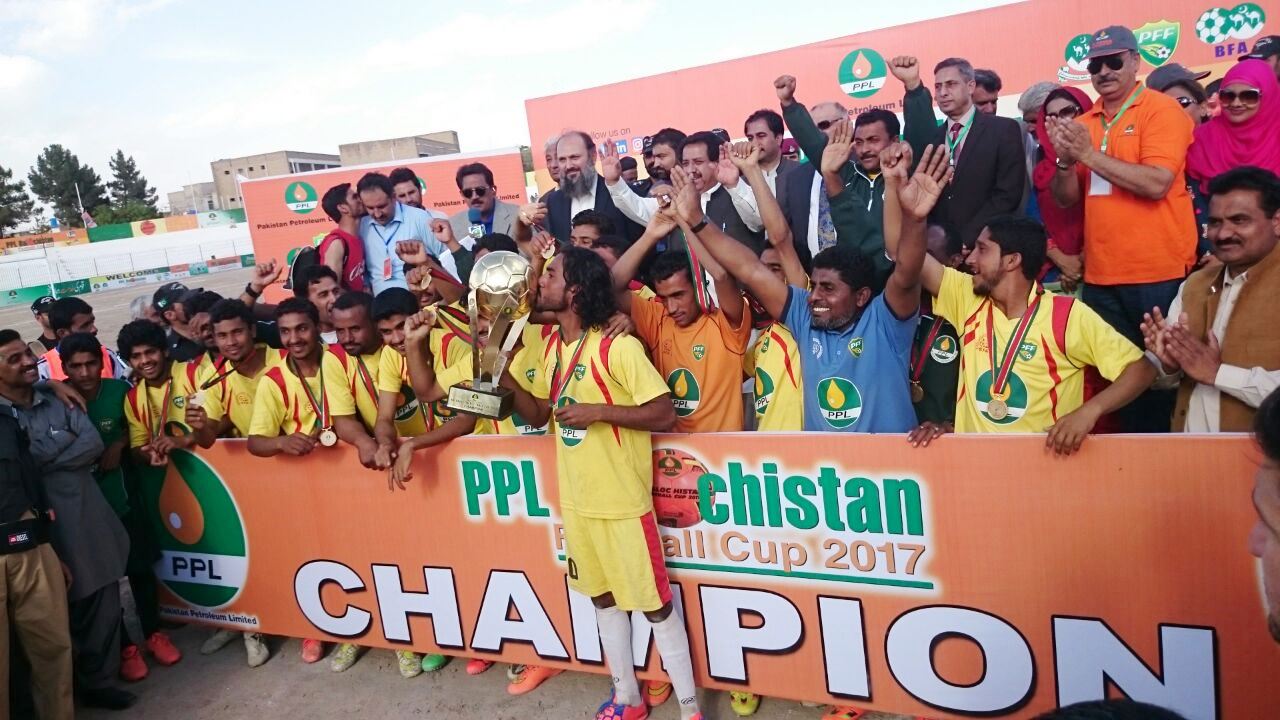 ---
KARACHI: From being a school teacher to the coach of an underdog team that stunned favourites of the tournament Chaman, Panjgur's manager Muhammad Jumma feels that the 2017 Balochistan Football Cup winner's title will be a trend setter for the football of the province.

Jumma teaches at the Government High School in Ghareebabad, Panjgur while being the District Football Association official and football is more than just a sport for him, much like his students and players.

In the final, Panjgur held Chaman during the first half, while it was Haseeb Baloch who scored the winner in the 61st minute to upset their stronger and more popular opponents.


Balochistan Cup to open doors for future events: Chaman coach


The 1-0 victory against Chaman, the most popular footballing city of Balochistan which produced international players like Essa Khan, Kaleemullah, Mehmood Khan among others, marks a new beginning for the Makran-based team.

"We can't believe that we've won," Jumma told The Express Tribune. "We were the underdogs, we strived, and none of it was easy, given that we have nothing but our talent."

"I feel our win can change the perception that only few cities in Balochistan have talent," he added. "I feel the entire province enjoys football and Panjgur has just arrived on a bigger platform. My aim was to make sure that our team won the tournament; we trained hard, all on our own without any help from anyone. I feel now when I'll go back to my students and my city, they would be proud, they would have more hope that our smaller district is not obscure anymore when it comes to football. In Panjgur alone we have 48 clubs that I picked my players from."

Jumma said that qualifying, from among the seven teams featured in the competition, was difficult and the level of football in Makran was also very high during the group stages. For his side, that has players who are labourers to the youngest one being a high school student, it was only the determination that got them through.

"We only used to pray before getting out for the field and even travelling would cost us a lot, given it takes Rs1500 for each player to come all the way to Quetta for the final round. We were comfortable at home, but it was a mixed feeling when we qualified as we were thinking about the money, but we all collected all the resources that we had to come to Quetta. Our oldest player is a labourer, many of my players are, but then they wanted to make their mark and coaching them was an honour for me. We are fighters," said Jumma.


Balochistan Cup: A ray of hope for Hazaras


With the win, Panjgur bagged Rs600,000 while a part of the reward was also that Panjgur players are being praised for their performance like their captain Abdullah Baig.

Jumma feels that it is time for the local departments to give opportunities to his footballers as they have now proved their talent.

"Abdullah is very popular in Panjgur, but it is just now that everyone from outside our town is taking notice of him, but that is the beauty of taking the chance. We risked a lot of money and effort to get here, and now maybe this can be a payback. If we hadn't got to the semi-finals may be no one would've thought about Abdullah the way they are receiving him now. As a coach that is my biggest achievement. I'm just grateful to PPL for organising this event and giving us this kind of opportunity," said Jumma.

Jumma's team had also brought down defending champions Quetta 2-1 in the semi-final.

They were in Group C in the final round with Lasbela and Loralai, while Chaman were in Group D with Kharan and Sibi.

The tournament was featuring 37 teams.  The qualifying matches were played among the district teams in all the six divisions including Quetta, Kalat, Makran, Sibi, Zhob and Naseerabad.

Meanwhile, PPL Managing Director Syed Wamiq Bokhari, while talking in the first-half break said the event will also take place next year while there has been improvement from its first edition.
COMMENTS
Comments are moderated and generally will be posted if they are on-topic and not abusive.
For more information, please see our Comments FAQ