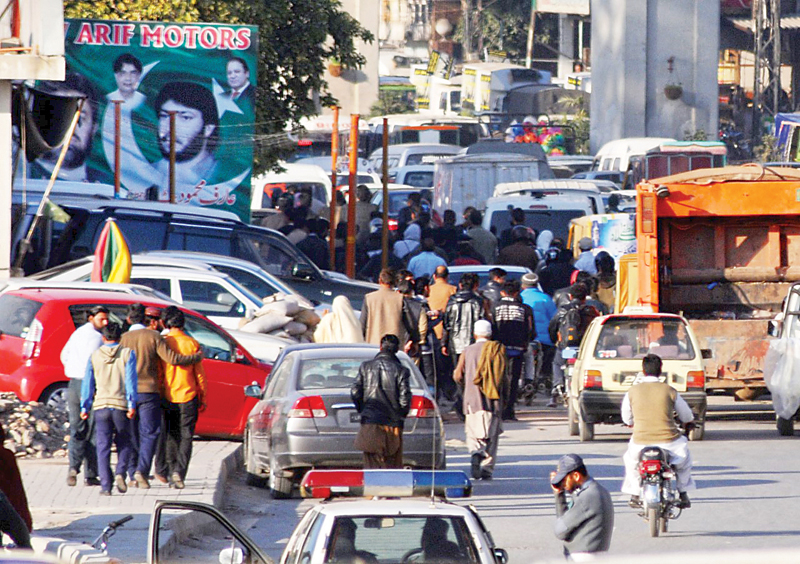 ---
RAWALPINDI: Traffic congestion at different points of Benazir Bhutto Road particularly at Marrir and Liaquat Bagh signals has been worsening with every passing day proving to be nerve wracking and harrowing for motorists, it has been observed.

"I have but no choice to pass through Marrir and Liaquat Bagh signals as I go towards Islamabad daily. I live at Marrir Hassan and work with a private firm in Blue Area Islamabad", said Muhammad Wasim, a computer engineer while waiting at Liaquat Bagh signal to go home.

"I have to leave for office about 20 minutes earlier than my routine time as much of my travel time is consumed at these two intersections," he noted saying he could not take other longer routes to reach his office.

Mushtaq Khan, a Suzuki van driver plying en route from Raja Bazaar to Swan Bus Terminal, said that the congestion at the two signals affects his livelihood. He said that he gets stuck at BB Road often at rush hours and could not earn enough to pay the  van let alone take money home.

A traffic warden standing at Liaquat Bagh Intersection said that it was beyond the control of traffic police to regulate and ensure smooth flow of traffic at these two points. Explaining his point, he said that there was no signal at BB Road from Faizabad to Liaquat Bagh leading to excessive rush at the point. Further, traffic coming from Raja Bazaar also creates problems at the intersection blocking access to College Road, he added.

The warden noted that the traffic coming from Marrir had to wait at the intersection. He added that the situation at Marrir was also not much different where traffic coming from district courts and from Sadar create congestion.

It was hard to manage the traffic at these two points for the space was short and traffic flow was very heavy, he added.

When contacted, Chief Traffic Officer Yousaf Ali Shahid said that construction of alternate routes or making the two intersections signal free could ease the traffic congestion. He added that the wardens tried their best to keep the traffic moving but it became harder especially at rush hours in the morning and in the evening.

Responding to a question if he had given his suggestions to the city managers, the CTO said that at different meetings he had highlighted the point that alternate roads or signal free intersections could provide long term solution. He said that the road engineers and planners needed to have consultations with the traffic police before preparing a road or creating an intersection.

A senior official at Rawalpindi Development Authority (RDA) said that the project of making the two points signal free was underway. He said that in second weekof March RDA awarded contract worth Rs7 million to Nespak for preparation of feasibility work. He said that Nespak was expected to finalize the feasibility by end of June this year.

Published in The Express Tribune, April 3rd, 2017.