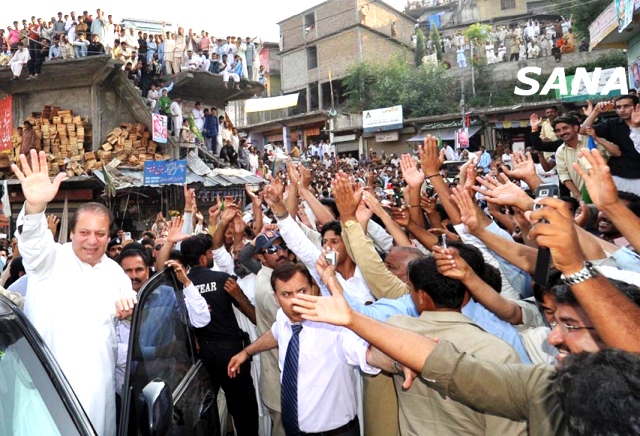 ---
ISLAMABAD: Chief of his own faction of Pakistan Muslim League-N Nawaz Sharif has decided to run for the post of party president when internal party elections are held later this year.

Party officials said on Saturday that Sharif is likely to seek the position which he held ahead of the 2002 general elections. Both Sharif and the slain PPP leader Benazir Bhutto had to abandon their formal party posts because both of them had been convicted by courts.

Bhutto then formed a separate group called the PPPParliamentarians before registering it with the Election Commission. At that time, the group was led by Makhdoom Amin Fahim.

This arrangement is still intact and the ruling group is still registered with the Election Commission as the PPPP. Nawaz Sharif made his brother Shahbaz Sharif the PML-N's president because he wasn't convicted in any case.

"He (Nawaz) is going to be our new party president again," a close associate of Sharif told The Express Tribune.

It is, however, not clear whether Sharif would also like to contest polls for any National Assembly constituency. Some media reports in the recent past suggested that he had an agreement with the Saudi Arabian rulers under which he was not to take part in politics for 10 years from the self-imposed exile he opted for in 2000.

This period ends in September this year, exactly the same time when elections in the PML-N are scheduled to be held. According to the party's constitution, the post of the president is the most powerful office.

A clause describes the office in these words: "The president of the Pakistan Muslim League shall be the head of the entire organisation, shall exercise all powers inherent in his office and shall see that office-bearers and the (party) organisation work in consonance with the constitution."

The holder of the slot is also empowered to nominate any member of party as an office-bearer.

It is not clear that what post would the party offer to Shahbaz Sharif after the elder brother takes over his office. Some officials, however, suggested he might be given the position of the senior vice-president.