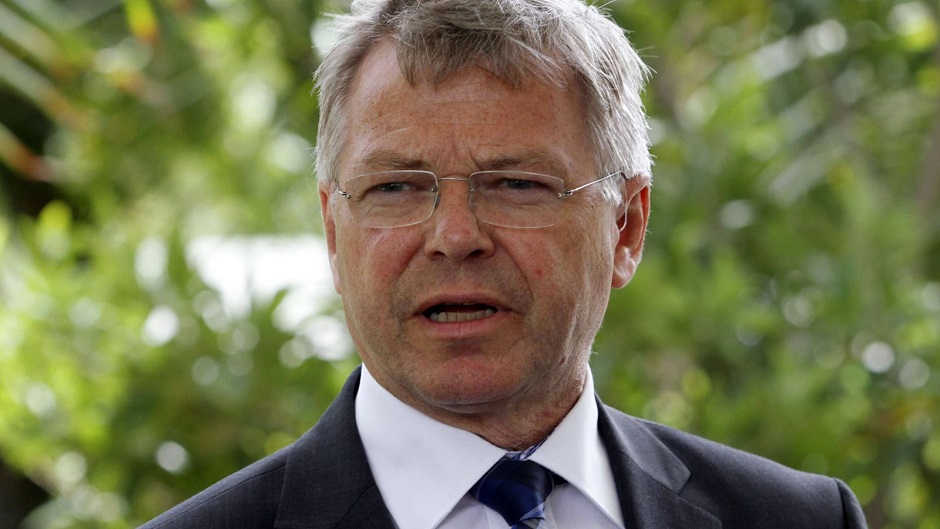 ---
MUZAFFARABAD: Norway's former prime minister Kjell Magne Bondevik has said the Jammu and Kashmir dispute needs a political solution which lies in implementation of UN resolutions in order to bring peace and security to South Asia. He made the remarks during a visit to Azad Jammu and Kashmir (AJK) on Friday.

Bondevik met AJK President Masood Khan and Prime Minister Farooq Haider, both of whom briefed him on the latest situation in Indian Occupied Kashmir (IOK). He was informed of the grave human rights violations Indian forces are committing in IOK and told that India's illegal occupation had put the region's peace and security at stake.

Indian-occupied Kashmir observes shutdown to protest civilian killings

More than one million Indian troops stationed in IOK have killed some 95,000 Kashmiris for demanding the right of self-determination according to UN resolutions. Indian forces have disappeared thousands of Kashmiris and more than 6,000 unmarked mass graves have been discovered in IOK. Those buried in the unmarked graves were killed in fake encounters by Indian troops.

The AJK leadership urged Bondevik to use his influence to end India's brutalities and to bring about a peaceful resolution of the Kashmir dispute. The Norwegian ex-premier was also briefed on India's unprovoked ceasefire violations along the Line of Control and attacks on adjoining civilian.

Army chief pins ranks on new colonel commandant of Azad Kashmir Regiment

Bondevik also visited Kashmiri refugee camps in Muzaffarabad. He met the refugees of 1989 who told him how they were forced them to leave their ancestral homes in IOK.

Bondevik served two terms as Norway's prime minister – from 1997 to 2000 and from 2001 to 2005. He is also the founder president of the Oslo Centre for Peace and Human Rights, a think-tank based in Norway. He visited AJK on the special invitation of President Masood.

Published in The Express Tribune, April 1st, 2017.
COMMENTS (6)
Comments are moderated and generally will be posted if they are on-topic and not abusive.
For more information, please see our Comments FAQ