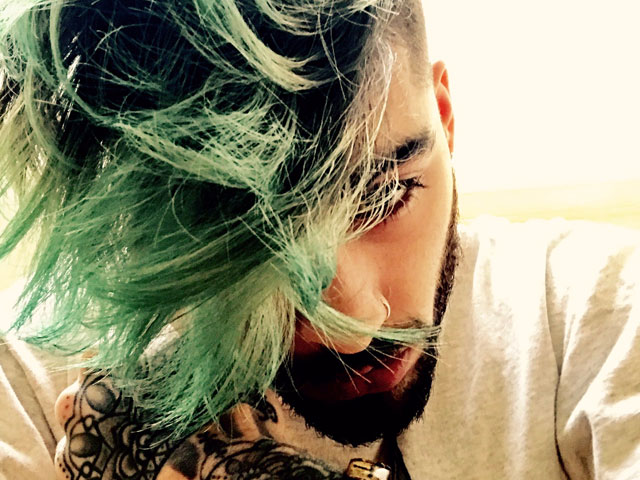 ---
Former One Direction main man Zayn Malik is quite famous for his experimental looks and style.

This is not the first time the Pillowtalk hitmaker has opted for green hair. However, we must say, this time around, it definitely looks better.

Kristen Stewart gets a buzz cut and we can't stop swooning

The 24-year old singer exhibited his newly dyed green locks on social media, sending people into a frenzy!

Have a look here:


March 28, 2017


Soon after the picture was posted, Twitterati definitely had a thing or two to say about the Like I Would singer's new hair do.


, omg

— BuzzFeed Community (@BuzzFeeders) March 28, 2017


King of everything, to be honest


king of green hair

— antonio (@antoniodelotero) March 28, 2017
NEW SINGLE
NEW ALBUM
NEW HAIR

YOU HAVE NO MERCY

— gey (@geysavevo) March 28, 2017


Our reaction, exactly!


March 28, 2017


Amen to that

https://twitter.com/ZoloZaynZquaad/status/846774943320887298

Comparisons were made...


👌🏻🤗 pic.twitter.com/Q0kOHMvUlL

— . dαni 💎 (@da_ni_ella) March 28, 2017
suddenly green is my favourite colour pic.twitter.com/ezaUO51hdq

— m (@everincenewyork) March 28, 2017


And it continued to get ridiculous by the minute...

https://twitter.com/soberkissland/status/846773271269912580

Basically, the whole fandom right now

https://twitter.com/unicozayn/status/846772711967903745


OMG

#Zayn & #TaylorSwift "I Don't Wanna Live Forever" #Mashup @radiodisney pic.twitter.com/9XNpHP9rW8

— Z (@zjmgoku) March 28, 2017
March 28, 2017
March 28, 2017


Zayn, are you listening?


I MEAN NEXT THING YOU KNOW HE'LL HAVE RAINBOW HAIR AND HE'LL LOOK LIKE A HOT UNICORN

— Ami (@rosemeetslwt) March 28, 2017


But we do laud Zayn's bold choice!

https://twitter.com/IamHR2512/status/846772615284953088



Have something to add in the story? Share it in the comments below.