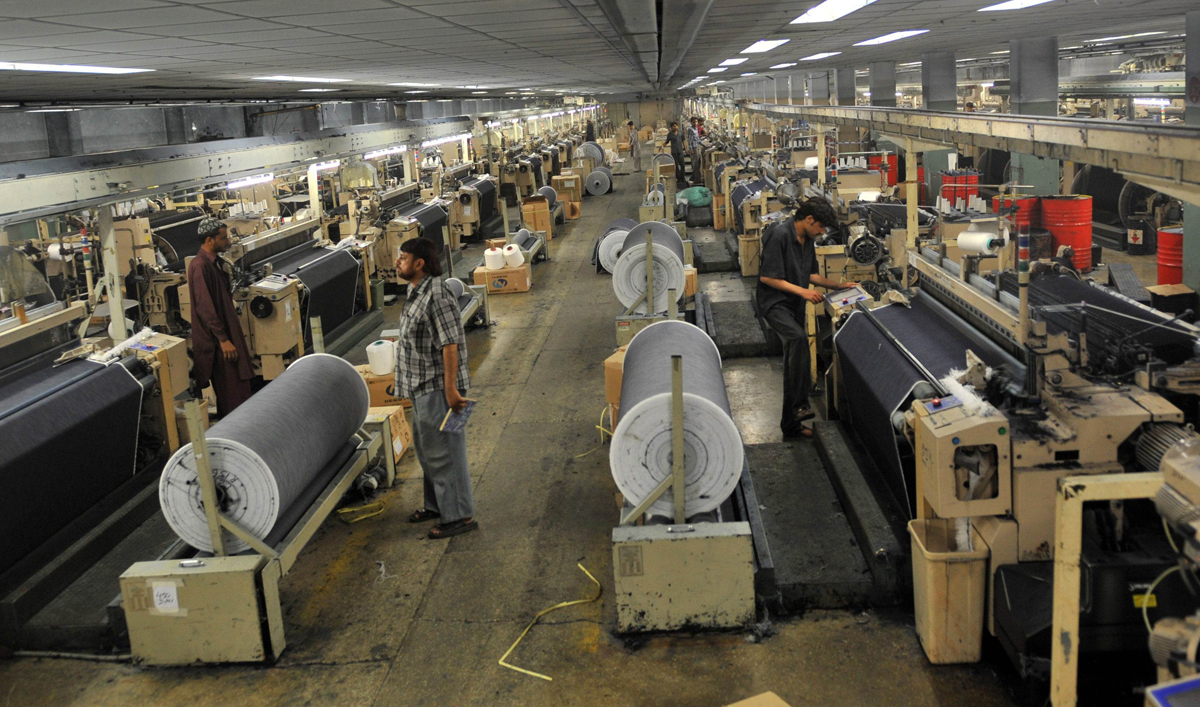 ---
ISLAMABAD: The month of February featured tales of two textile cities.

The first news came from Islamabad where the Economic Coordination Committee (ECC) approved a grant of Rs12 million to facilitate the wind-up process of Pakistan Textile City Limited, which was inaugurated with much fanfare in 2011 at Port Qasim Karachi. This textile city never produced a single meter of cloth.

'Govt responsible for decline in textile exports'

The second was a textile city, announced recently, not in Pakistan but China. The Xinjiang Textile Park was inaugurated in the border province of China-Pakistan. Xinjiang now grows 60% of Chinese cotton. Only in 2016, 22 new enterprises were opened in Aksu Textile Park in southern Xinjiang, producing 10 million meters of cotton cloth with 800,000 spindles every year.

China has plans to add another 100,000 new jobs in textile manufacturing in Xinjiang alone, which already saw 112,300 new workers hired in 2016.

The Pakistan Textile City Limited envisioned to produce 80,000 new jobs, and created only administrative jobs in the headquarters.

At a cost of around Rs1.2 billion, an area of 1,250 acres was purchased from PQA for the project and 774 industrial plots of various sizes were developed. To develop the area by constructing a three-kilometre road, water tanks, etc an amount of Rs2.5 billion was also taken as loan from the National Bank of Pakistan.

The tale from two textile cities – one closed down before commencing commercial operations and the other expanding at "Punjab" speed should teach several lessons.

Already, the Karachi Chamber of Commerce and Industry (KCCI) has shown serious concerns over "threats of further losing its market share to China".

KCCI issued a statement saying, "The anticipated glut of textile and garment from the Xinjiang textile park in the export as well as domestic markets of Pakistan poses a serious threat to Pakistan's textile sector already struggling to remain afloat."

The chamber, in its report, said, "Setting up of the textile park at Xinjiang will give a heavy blow to Pakistani textile exports."

In 2015, I made a presentation in the PIDE Annual Conference, on how Lawrencepur Brand, Pakistan's premier brand of clothing, was forced to move its operations from Pakistan to China. Yes, Lawrencepur is now made in China.

With the Minister of Planning present, I argued that productivity is not a state-led process. The shifting of Lawrencepur to China and closure of Pakistan Textile City are two sides of the same coin. We are losing business, market share and jobs. Is the process of a general decline of Pakistani textile, as also exhibited in the stalemate of its exports, can be termed a Schumpeterian Creative Destruction?

We won't let federal govt pull the plug on Sindh's textile city: CM

This creative destruction is onset by entry of new technology, innovation and new industry, which forces old industry to shut down and opens new opportunities. It is typically enterprise driven, which embarks upon innovation and forces the old guys out. Painful but important – creative destruction is a milestone in a nation's industrial path.

However, it seems that what we are witnessing in Pakistan's textile is not a Schumpeterian destruction – rather it is a form of Dragonian Resurrection – a term I coined to capture Chinese influence on local business. In a Dragonian Resurrection, innovation spill-overs do not happen. Local companies are either closed down or taken over by the Chinese shareholders.

Of course, we cannot blame the Chinese, as the Karachi Chamber is doing. It is true that we are giving them infrastructure, yet I am not blaming Chinese for the eventual demise of Pakistan's textile.

I am ready to believe that all Chinese goods will just move from the north to south to be shipped around the world. I am also assuming that the take-over of the Pakistan Stock Exchange by Chinese and intense manoeuvres by Chinese industrialists to buy big Pakistani textile firms will also be good.

However, our own textile entrepreneurs, if they want to remain in business, have to sharply re-define their business methods in this new world. The role of a well-coordinated Textile Policy cannot be under-estimated in this. One direction may be actually the big Indian market of working women, who can't stop loving our splendid women wear designs. But here comes the crucial role of an active government, which negotiates for entry of its own businesses.

Despite govt support, Pakistan's textile industry lags behind

Malaysia's MATRADE (similar to our Trade Development Authority) is a great example of how its officers work tirelessly to win market access in locations across the world.

Remember, they are not in the business of doing business, but win entry for their entrepreneurs. Thus, some kind of policy craft is essential but eventually the businesses have to deliver.

The writer is founder of PRIME Institute, an independent think tank in Islamabad.

Published in The Express Tribune, March 27th, 2017.

Like Business on Facebook, follow @TribuneBiz on Twitter to stay informed and join in the conversation.