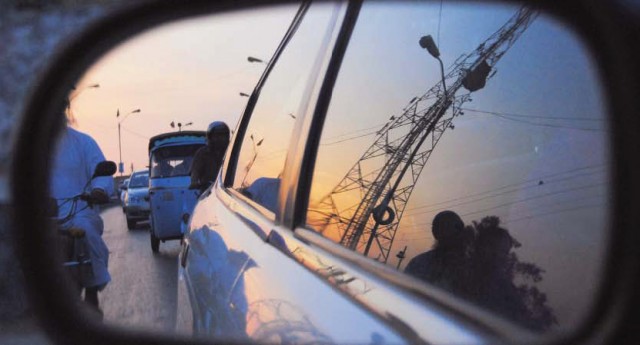 ---
KARACHI: The best crimes are not just easy to commit and pay well but as any car thief in Karachi will tell you, they also involve recyclable goods.

Like sideview mirrors. "I had parked my car outside the Baitus Salam mosque and when I came out after offering my prayers, someone had stolen my car's side-view mirrors," said Ali, a resident of DHA Phase IV, who was robbed twice in four months. "It is the easiest way to earn money," said Ali. According to him, anyone who has a little knowledge about cars can easily take apart side-view mirrors and quickly escape. He has a Vitz 2005 model and its side-view mirrors cost about Rs25,000.

However, second-hand mirrors can be bought at the nominal price of Rs3,000 in Shershah market or at Banaras. Some thieves are experts and they can gauge the quality of the mirrors by just having a look at them. "One day, the side-view mirrors of my car were taken apart but the thieves left them beside the car," he said while telling the story about the second time it happened - this time outside Maryam Mosque in Defence View. "They left them on the ground after they found no wires in the mirrors.

That meant they were not automatic," said Ali, who has now fixed Cultus mirrors to his Vitz to put the stealers off. Muhammad Jibran, a corporate manager who lives in Clifton block VI, has also fallen victim to this crime. On returning from a visit to a friend, he found that he had lost both the side-view mirrors of his car. "I had to buy secondhand mirrors from Banaras for Rs4,000," he told The Express Tribune. According to the police, it is difficult to arrest these people.

Official records from the Darakhshan, Frere, Gizri, Clifton, Boat Basin and DHA police stations state that 123 FIRs for side-view mirror theft have been registered. But so far, none of the police stations have managed to arrest the culprits. "The problem is that the mirrors are small, compact and portable. They can be stolen from anywhere and at any time. You cannot raid shops selling second-hand mirrors just on suspicion," said officials from the Clifton town police.

Meanwhile, shopkeepers who sell second-hand mirrors said they buy the mirrors from genuine dealers. "None of us buy stolen mirrors as that can create serious problems for us," said Jamil Khan, an auto parts dealer at Shershah market. According to him, the thieves sell the stolen mirrors independently at a meagre price of Rs2,500 to Rs4,000.

Published in the Express Tribune, May 16th, 2010.
COMMENTS (2)
Comments are moderated and generally will be posted if they are on-topic and not abusive.
For more information, please see our Comments FAQ