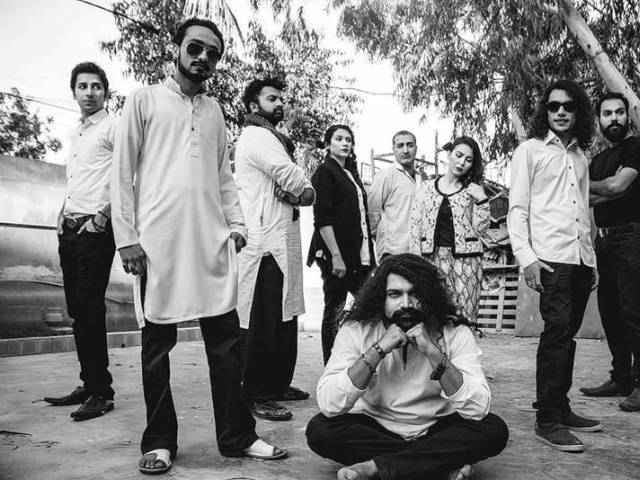 ---
KARACHI: For the last three years, ever since its inception in 2014, Sounds of Kolachi has slowly but surely been gaining ever-increasing popularity among the country's music sphere.

Throughout those years, I have been ardently ignoring their existence. The band name invoked images of a troupe that played sweet and melodious harmonies, bringing back memories of a time when Karachi was Kolachi — a calm, peaceful and quiet harbour by the Arabian Sea — of the good times that we have only heard of.

Halfway through the first song, Chakardaar, of their first album Elhaam, I realised I had been fooled by the name. These weren't the Sounds of Kolachi. These were the noises of Karachi — filled with the angst, frustration and fast pace that have come to typify life in the country's largest city.

Musicians defy terror with peace jam

Not the calming sounds of the ocean waves hitting rocks but those of a generation growing up surrounded by the problems of an ignored, dangerous, and exponentially growing metropolis.

This was grunge rock and progressive rock's illicit affair with 'sufi rock'. This is what would have happened had Messrs Kurt Cobain and James Maynard Keenan formed a band in Pakistan. This is what the love child of Nirvana and Tool's one-night stand in the heat of the sub-continent would have sounded like.

Unsettling images perhaps, but Elhaam is anything but. It is experimental yet it is familiar, it hits you yet it is not harsh, it is in your face yet it is not distasteful and above all else, it does what a lot of other bands and artists have done in the recent past yet it does that in its own way.

With Chakardaar and Laakh Jatan — the first two songs of the album — the band puts its best foot forward. Unapologetically bold and delightfully powerful, the songs hook the listener and make him sway and swerve with every change in rhythm and tempo.

That change in rhythm and tempo — along with the diverse range of instruments used — defines Sounds of Kolachi's debut album, with several of their songs neatly divided into two or more clear parts. Almost all of the transitions take place seamlessly, with bass guitar and drums playing the biggest roles in doing so — Dream Theater would have been proud.

Through all of their softer songs such as Allah Hi Dayga, Nain Laagay Ray and Aey Ri Sakhi, there is an underlying expectation that the music will pick up pace at any point; like a storm rippling just beneath the calm surface. The lull, it always seemed, was temporary.

In Allah Hi Dayga and especially Aey Ri Sakhi, it proves to be so at just the right time; the drums in particular pull off satisfying rolls that force the listener to increase the volume a couple of notches.

In Nain Laagay Ray, the music teases and threatens to change tempo. It never does, but it still manages to keep the listener hooked throughout.

Abida Parveen new song strikes chord of Pakistan's beautiful landscape

However, not everything Sounds of Kolachi tried came off. Unless you are called David Bowie or Sting, all musicians that dare experiment get a few things wrong every now and then. Sounds of Kolachi is no different.

The first part of Man Moora would have been more in place in an Indian ad jingle than this album, sounding something Airtel's marketing company would use.

The second part, starting around three-quarters of the way through, raises the tempo of the song. The drums kick in with much more vigour and the riff unmistakably changes its musical signature. It was no longer an ad jingle but it was still a let-down. It was the one thing a band with such a diverse range should not be producing — generic music.

But so powerful and engrossing is the rest of their album that one bad song can happily be overlooked.

On their official page, Sounds of Kolachi call themselves a Sufi rock band. But they do themselves injustice by doing so, restricting themselves in the process. From relaxing lounge music to adrenaline raising songs perfect to go that extra mile while running, from guitar solos to duets, Elhaam has it all.

It is an experiment done right, very right, and an album worth listening to. Their album is available for streaming on Saavn and Patari.

Have something to add to the story? Share it in the comments below.