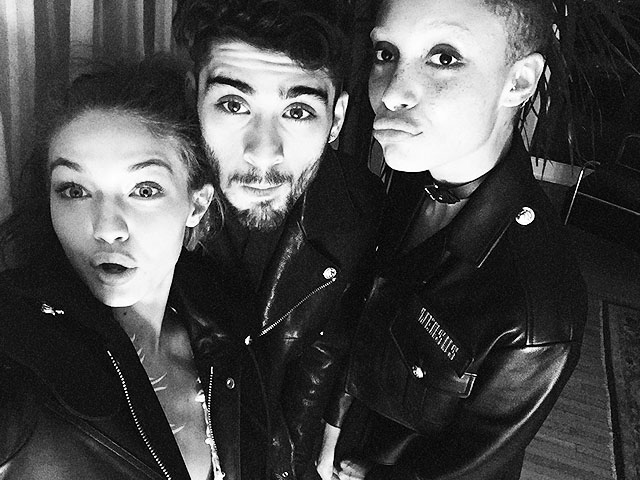 ---
Supermodel Gigi Hadid has turned photographer for V Magazine -providing "an intimate look" of "her private world".

Gigi shot a very special Versus Versace campaign with her star beau Zayn Malik.

https://www.instagram.com/p/BRYlYI4g8wT/?taken-by=gigihadid

Gigi Hadid lands first 'Vogue Arabia' cover but not everyone is happy about it

A source told pagesix.com that at a hotel, Hadid clicked photographer Mario Testino, actress Sasha Lane and designer Olivier Rousteing, while V editor Stephen Gan stopped by.

Designers Karl Lagerfeld, Donatella Versace, Tommy Hilfiger and sister Bella will also appear in Gigi's spread.

The first round of portraits (about 16 to 20) will publish on May 1, then a second batch will be revealed later in the year.

https://www.instagram.com/p/BRZ597Ily35/?taken-by=zayn

Gigi finally opened up about her passion for photography. "We were really competitive horseback riders, and so in between our classes or competition, I would just take my camera and shoot my friends and their horses. Then I started selling 8-by-10 prints, I had HadidPhotography.com that I built on this web site-building web site. And I, like, sold my photos of my friends' horses." reported People.

Gigi Hadid wants people to see the "human" in her

https://www.instagram.com/p/BRZbHMvjX5_/?taken-by=zayn

V's editor-in-chief Stephen Gan says the magazine is a platform for artists to express themselves and stands by the decision to use a famous model like Hadid. "I felt like she's had a real background in photography, and she's got an eye, and I felt like she really has got that calling and it's genuine. She's really multi-talented, and a very, very special soul. It's rare." he said.

Have something to add in the story? Share it in the comments below. 
COMMENTS
Comments are moderated and generally will be posted if they are on-topic and not abusive.
For more information, please see our Comments FAQ