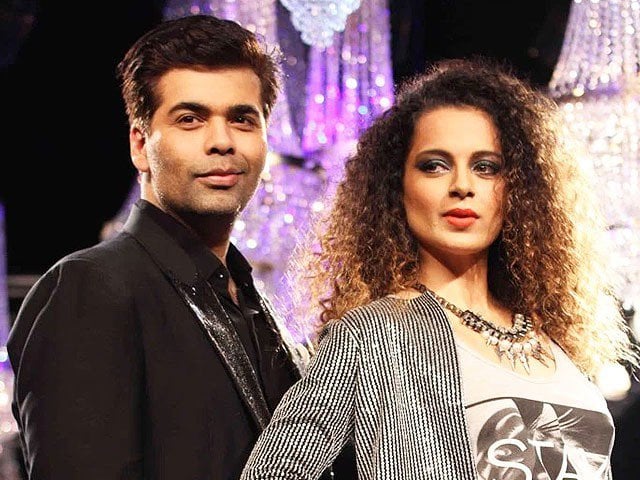 ---
Hrithik Roshan and Kangana Ranaut's highly-public feud went on for days, and still remains unresolved.

Recently, Kangana found herself in the midst of headlines yet again. However, this time for a completely different celebrity.

Karan Johar and The Queen actor started a tiff when Kangana graced the coveted couch on the talk show, Koffee With Karan, which Karan has been hosting for the past 13 years. The Gangster actor called Karan the flag-bearer of nepotism and it didn't go down too well with the famous director.

Recently in a press meet, the Ae Dil Hai Mushkil director said that he had had enough of Kangana playing the victim card.

His statement was sure to draw a reaction from the outspoken actor, and boy, did she react!

Karan Johar asks Kangana to leave Bollywood if it's that bad

Speaking exclusively to the Mumbai Mirror, Kangana spoke her heart out on the matter, saying she never played the victim card, but a badass one.

Here's what she had to say:

"I can't speak for Karan Johar's understanding of nepotism. If he thinks that it is restricted to nephews, daughters and cousins, I have nothing to say. But, to say that he chose not to give me work is to mock an artiste. As importantly, his memory appears to be poor because we worked together in a movie (Ungli), which was produced by him. And quickly realised our sensibilities did not match.


I'm also at a loss to understand how he gave me a platform by inviting me on his show. I've been on several platforms before with several global icons. To say he helped me voice my opinions is to discredit me as an artiste and a public personality. And, I think, it should be added here that I was invited to be a part of the show in its fifth season. His team requested my team for months for my dates.

But what is pertinent here is: why is Karan Johar trying to shame a woman for being a woman? What is this about the 'woman card' and the 'victim card'? This kind of talk is demeaning to all women, particularly the vulnerable because they are the ones who really need to use them.

Karan Johar plays down Kangana's nepotism remarks

The 'woman card' might not even land you a job, but it can get a pregnant woman who feels her water is about to break a 'ladies' seat on a crowded bus. It can be used as a cry for help when you sense a threat. The same goes for the 'victim card', which women like my sister, Rangoli, who is a victim of an acid attack, can use while fighting for justice in court.

What is important to understand is that we are not fighting people, we are fighting a mentality. I am not fighting Karan Johar, I am fighting male chauvinism.

Now that Karan is the father of a little daughter, he should provide her with all these cards — the 'woman card' and the 'victim card', as also the 'self-made-independent-woman card', and the 'badass card' that I flashed on his show. We will use whatever we need to ensure no one rocks our boat.


Also, the Indian film industry is not a small studio given to Karan by his father when he was in his early 20s. The industry belongs to every Indian and is highly recommended for outsiders like me whose parents were too poor. He is nobody to tell me to leave it. I'm definitely not going anywhere, Mr Johar."

Have something to add in the story? Share it in the comments below. 
COMMENTS (4)
Comments are moderated and generally will be posted if they are on-topic and not abusive.
For more information, please see our Comments FAQ