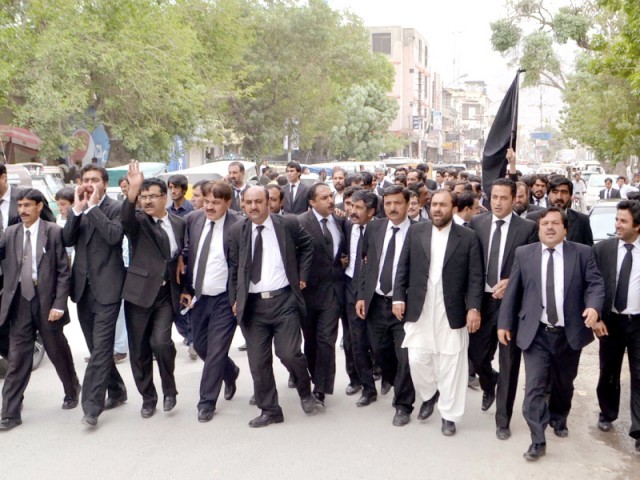 ---
KARACHI: A group of lawyers clashed on Tuesday with police for booking some of their colleagues in a case regarding the escape of two suspected robbers from court premises.

Gulistan-e-Jauhar police said suspects Muhammad Sabir and Noor were booked in a robbery case and an investigating officer had brought them to City Courts before a magistrate on Monday for remand, but their lawyers allegedly helped them escape.

City Courts police said that a police official of Gulistan-e-Jauhar lodged Monday night a case against Advocate Nizar Ahmed and his associates for their alleged involvement in the escape.

Dozens of lawyers approached the City Courts police station for a counter FIR against the Gulshan SP Dr Fahad Ahmed and other police officials for allegedly taking away cash and some documents from Ahmed.

Lahore suicide attack: Lawyers in upper Sindh boycott courts in protest

However, a scuffle took place between the lawyers and policemen after the SHO refused to lodge a case. Meanwhile, SHO Azeem Baig claimed he was beaten up by the enraged lawyers who also tore his uniform.

Meanwhile, Ahmed said that he, along with both suspects, were framed in the robbery case. The magistrate had verbally ordered the release of both the suspects on his application under Section 63 of the Code of Criminal Procedure since the complainant did not oppose it.

A few hours later, the court recalled its earlier order, he maintained. He also alleged that the SP along with other officials, approached him for the arrest of the suspects and took away cash and documents from him.

Meanwhile, representatives of the legal fraternity said they will chalk out future course of action in a meeting today.
COMMENTS
Comments are moderated and generally will be posted if they are on-topic and not abusive.
For more information, please see our Comments FAQ