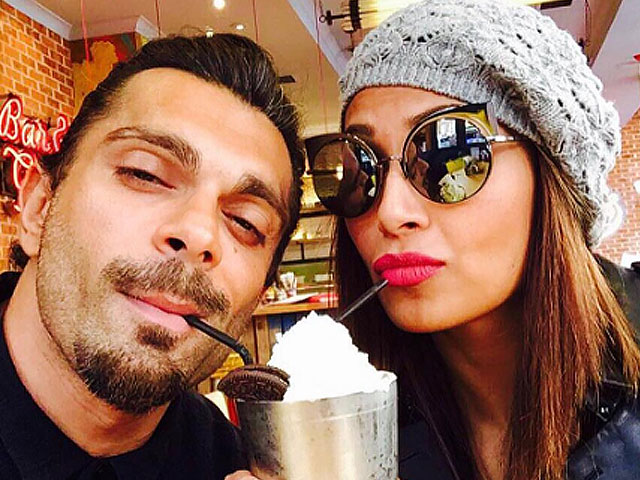 ---
If you think Bipasha Basu and her husband Karan Singh Grover are on a romantic getaway to London, think again!

Bispasha's recent Instagram post paints an image of a perfect vacation. However, there might be a different story behind it.

https://www.instagram.com/p/BRQqU6mjNU0/?taken-by=bipashabasu

https://www.instagram.com/p/BRQsftjhJr0/?taken-by=iamksgofficial

According to Spotboye, Bipasha apparently was on a work trip to London where she was supposed to walk the ramp for a budding designer, but had a change of heart once she reached there - and mind you, the trip was paid for! Professional much?

The publication came across a Facebook post, which revealed an unprofessional and shocking behaviour by one of the B-Town divas.

In a very descriptive post, shared by Ronita Sharma Rekhi, who booked the actor for a Fashion Show accused Bips of throwing a major tantrum and backed out of the show at the very last minute.

She started the post by writing, "I booked this certain artist and she passed me on to her very kind but tortured manager, who is like a wet cat in front of her. The money quoted was agreed. Then, she started the demands about one extra business class ticket for husband, I agreed to that too."

After some misunderstanding, Ronita said the 'actor' caused a huge scene and refused to return calls or open the door.

"I messaged her, apologising, and asking for forgiveness. Not because I was wrong but because I thought it will turn this heartless person into a human but she blocked me." she said.

"Our artist never opened the door leaving all of us helpless even after doing everything she wanted." she added.

Here is Ronita's full post:

[fbpost link="https://www.facebook.com/ronita.sharma/posts/10154948188322667?pnref=story"]

After putting two and two together, Spotboye concluded that the tantrum throwing diva is none other than Bipasha and her plus one is husband Karan!

The publication reached Bipasha for a statement, but to no avail. An hour and a half after the news was published, Bips spokesperson released a statement, which read, "Bipasha has always had a spotless reputation for more than 15 years in the industry and has been a thorough professional. Unfortunately, the organisers didn't honour their commitment as promised in terms of hospitality and logistics , on landing Bipasha had to book her own hotel stay. What happened was completely unprofessional on the organisers part."

Recently, Karan posted a picture on his Instagram, which might be the response to the accusation about the couple made by Ronita.

He posted a picture of his better half and himself, with the caption:

"You can not move us with your might, you can not hurt us with your words, you can not affect us with your lies. We are unstoppable because we are love and light. We are peaceful because we are the truth. Don't mistake our kindness for weakness. Don't mistake our silence for fear. We choose to look in the mirror because we are beautiful inside out. We choose to look into our own eyes because our souls are pure. We sleep well at night because we are free from corruption. Be with us not against us, let's spread the love and cure negativity. We are the special children of god, at first we were two, now we are one. 👑 MP"

Here is the original post:

https://www.instagram.com/p/BRU8d3ahdmK/?taken-by=iamksgofficial

This post by her hubby is adorable but doesn't make up for wifey's unprofessional behaviour!

We still wait for the Raaz beauty to respond on the matter and enlighten us with her side of the story.

Have something to add in the story? Share it in the comments below. 


COMMENTS (4)
Comments are moderated and generally will be posted if they are on-topic and not abusive.
For more information, please see our Comments FAQ