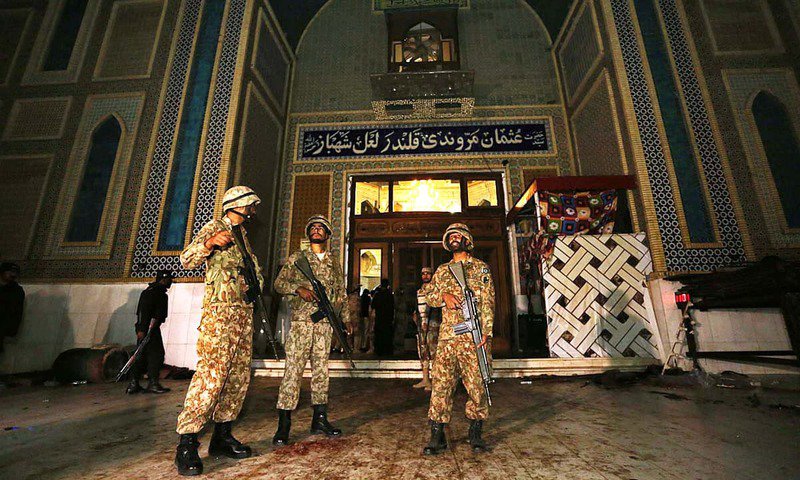 ---
Sindh Chief Minister Syed Murad Ali Shah on Monday confessed there was inadequate security at the time of a deadly suicide attack at the shrine of Sufi saint Lal Shahbaz Qalandar in Sehwan.

"As I have told you the deployment of police was insufficient there [Sehwan]… I agree with you on this that police deployment was less and there were no proper [security] arrangements," the chief minister told lawmakers in Sindh Assembly.

In Sehwan every now and then so-called VVIPs arrive and I'm not talking about politicians. I don't want to spell out who arrived there half an hour ago and took security personnel with him, he was not a politician but I do not want to blame anybody for this, he added.

Addressing the provincial assembly members, Shah said the government did not receive any specific terror threat but there was an overall security threat in the province. "Several days ago a similar incident had occurred at Shah Noorani shrine and we should have been better prepared for this," the chief minister said.

PM Nawaz, army chief visit Sehwan as death toll rises to 88

Delving into the details of the steps taken by Sindh government in wake of the recent terror attacks in the province, Shah said he had visited a few other Sufi shrines and held several security meetings to setup a comprehensive security plan. "I have replaced the people deputed for security of the Sehwan shrine. The government has also categorised all Sufi shrines in the province and is also reviewing their security arrangements."

The chief minister rejected media reports that the CCTV cameras were not working at Sehwan shrine at the time of the attack. "This is not correct. It was due to load-shedding that camera resolutions were not good because they were functioning on generators which produce low voltage," he explained.

"Despite the fact, we identified the suspected suicide attacker through the same cameras and have also collected DNA samples but unfortunately we do not have a countrywide DNA database which is why we can't tell where the suspected attacker belonged to," he upheld.

Bloodbath at Sehwan shrine

Regarding handlers of the attacker, Shah said the footage of suspected handlers have been sent to National Database Registration Authority (Nadra) for verification.

Lal Shahbaz Qalandar is one of the country's most revered shrines, dedicated to a 13th-century saint whose spirit is invoked by devotees in ecstatic daily dancing and singing rituals in Sehwan Sharif. However, most of the country's myriad radical militant groups despise Sufis and other religious minorities as heretics.

At least 80 people were killed in the deadly attack claimed by Islamic State.