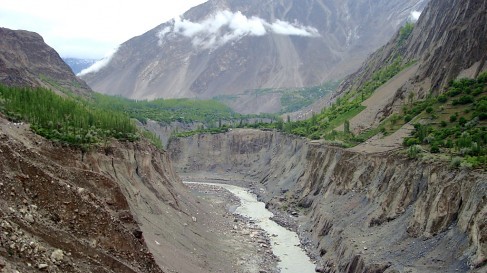 ---
ISLAMABAD: The government needs to resolve the constitutional status of Gilgit- Baltistan (GB) as soon as possible.

This was recommended by a fact-finding mission of the Human Rights Commission of Pakistan (HRCP) which had sought to determine the aspirations G-B's residents for identity, integration and autonomy.

In the report, which was launched at a local hotel in Islamabad on Friday, the HRCP mission reiterated the recommendations made by an earlier HRCP fact-finding mission to G-B since most of those recommendations remain unimplemented.

The fact-finding mission, which included HRCP's Co-Chairperson Kamran Arif, former chairperson Asma Jahangir and HRCP Coordinator for Northern Areas Khushal Khan, recommended that the region should be integrated into Pakistan in order to address most of the administrative and political issues faced by people in the region.

Moreover, the mission suggested a system like Azad Jammu and Kashmir, or a constitutional amendment like Article 370 of the Indian constitution for occupied Jammu and Kashmir, or a provisional provincial status which would eventually lead to a permanent provincial status among the solutions to the issue.

The report further suggested that all fundamental rights guaranteed in the Constitution of Pakistan should be extended to G-B and that the misuse of the Anti-Terrorism Act (ATA) and Schedule Four against rights campaigners and political activists in the region needs to be curbed.

Moreover, it suggested that unchecked authority of law enforcement agencies (LEAs) and intelligence agencies needed to be monitored and controlled.

The report suggested that the dominance of bureaucracy in all the administrative and political affairs of the region needs to end.

Having visited G-B for three days last year, the fact-finding mission met with civil society organisations, women rights activists, representatives of the business community, organizations working for persons with disabilities, delegations of several organizations working for the youth of GB, members of the Awami Action Committee, internally displaced people of Attabad lake, various political parties and political activists, and representatives of the Professional Development  Centre North (PDCN) of the Aga Khan Development Network (AKDN).

They also met with the G-B Chief Minister Hafeezur Rehman and the Chief Justice of the Appellate Court.

The report acknowledged that while three days may not have been sufficient to fully grasp the complexities of various issues in the region given its diversity, they had tried to hold extensive consultations in order to understand the challenges faced by residents of the region and how could they be overcome.

Published in The Express Tribune, March 4th, 2017.
COMMENTS
Comments are moderated and generally will be posted if they are on-topic and not abusive.
For more information, please see our Comments FAQ