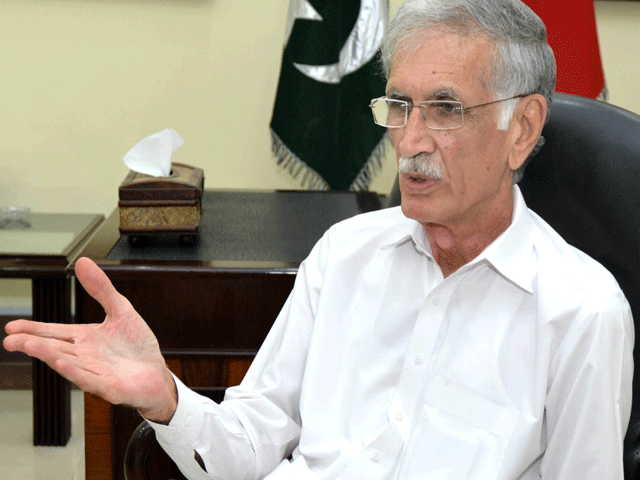 ---
ABBOTTABAD: Khyber-Pakhtunkhwa (K-P) Chief Minister Pervez Khattak has suspended the superintendent of Haripur Central Jail along with another seven other jail officials for releasing over a dozen prisoners on fake education remissions, official sources said on Friday.

"It is true Haripur Jail Superintendent Khalid Abbas has been suspended by Khattak along with six junior officers while another senior officer has been given the charge [of the prison]," a source at the K-P Inspector General for Prisons said on the condition of anonymity.

The suspensions were followed by an inter-departmental investigation into the matter ordered by provincial authorities. Mardan Jail Superintendent Shah Jehan Khan has been tasked to carry out the probe.

The inquiry found that over 16 prisoners, who had been sentenced to 10 to 25 years in jail, had been released at least two years before they served their sentences based on remission reserved for certain religious examinations. However, it was discovered that these prisoners never took the exam during their prison terms.




According to sources, the inquiry officer found that prisoners had been issued the certificates presumably after paying hefty bribes to a jail warder Obaid Ahmed Khan, who used to maintain and update prisoner records relating to sentence remissions before he was suspended three months ago.

Under the Pakistan Prison Rules, a prisoner is entitled to remissions in their sentence of up to two years on the basis of good conduct, donating blood, taking and passing exams of secondary school certificate, higher secondary, bachelors, masters and different religious courses such as simple recitation of Holy Quran, recitation with Urdu translation, learning by heart and others.

When irregularities were first detected in November 2016, Obaid had in a written statement to Superintendent Abbas confessed to 'mistakenly' listing the names of 16 prisoners among beneficiaries of remission between 2013-2015.

Abbas, who had been managing the Haripur jail since 2013, had referred the matter to IG Prisons and Home Department who sent a team headed by the Mardan Jail Superintendent to investigate.

Confirming the remissions, the inquiry team observed that Obaid could not have acted alone since prisoner release orders have to be signed by the record branch in-charge, deputy superintendent and the superintendent.

Khattak, though, took notice of media reports about the scam and suspended Abbas, deputy superintendents Haji Ayub and Ahmed Zaman Babar, Raziq Khan, Bacha Said and Jawad Gill, Noorul Basar Khan and Obaid before ordering an inquiry.

IG prisons subsequently gave additional charge of Haripur jail to Mansehra District Jail Superintendent Abdul Qayum Khan.

Published in The Express Tribune, March 4th, 2017.