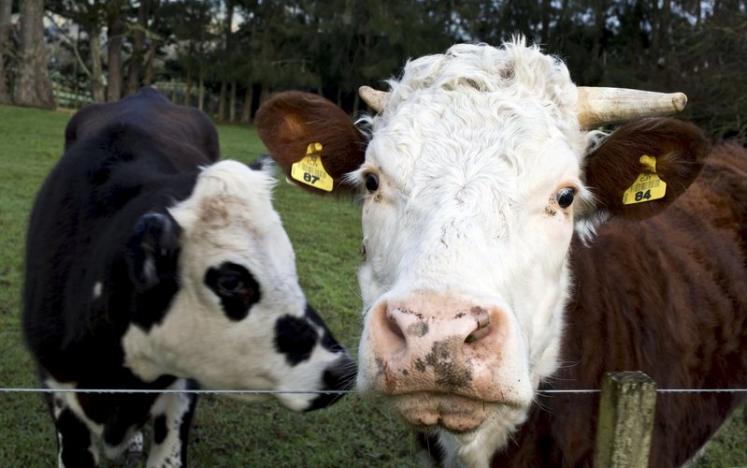 ---
Remember the 'Fitbit for cows', the wearable that helped farmers increase milk yields? Well, they just announced that they're part of Y Combinator's winter '17 batch.

Cowlar, which started up in Pakistan but is now headquartered in California, builds a tracking wearable that monitors the body temperature and behavior of cows. That allows farmers to detect when the animal is in heat and the best time for insemination.

It becomes the second startup from the country to be accepted into Y Combinator – after artisanal shoes startup Markhor did it in 2015.




Umer Adnan, CEO of Cowlar, claims the wearable helps increase dairy output by approximately 15 per cent.

"We're a hybrid of dairy science and machine learning inside a plastic box," he remarks.

'Fitbit for cows' wins big at Islamabad start-up competition

Cowlar's wearable tackles a very real problem. Emerging countries like India, Pakistan, Mexico, and Vietnam have millions of cows – India is home to the largest livestock population in the world – but average milk yields are around a quarter of those in the US and Netherlands.

A large part of the reason is inferior farming practices, poor nutrition, and abysmal veterinary standards.




"The biggest thing we're trying to capture is when a cow is in heat. If farmers miss the heat cycle then the next cycle comes after 21 days. If you miss that, you're missing out on 21 days of milk production," Umer told Tech in Asia in April.

Stepping out of the comfort zone

The idea for the gizmo came during Umer's previous entrepreneurial foray – design company E4 Technologies – which developed products for wireless crop monitoring, energy optimization, and motion tracking for sports.

Cowlar was one of its products – probably the most unique and disruptive – but definitely not the one making the most revenue. Umer claims E4 Technologies had clients from 8 countries, made US$300,000 in revenue in 2016, and was already profitable.

The team decided to pause all that to concentrate solely on Cowlar.

"The response ever since we entered Y Combinator has been phenomenal and beyond our wildest expectations," says Umer. "It wasn't easy to give up a substantial amount of money but we're trying to fundamentally change the dairy industry."

This Pakistani startup offers solutions to differently-abled people

Umer adds that there are four to five other startups that are making wearable devices for cows, but says they're far more expensive and costly to maintain. UK-based Lely, which makes robotic milking systems that incorporate electronic collars, costs almost US$200,000 to set up.

Furthermore, such large agri-tech firms need to send installation teams to set up things like sensors and wireless networks spread across the farm before systems are up and running. It's a time-consuming and prohibitive process.

Umer's gizmo costs US$69 and has a battery life of one year. There's no need to send an installation team – it's more or less plug-and-play. Simplicity and ease of use are encoded into the startup's DNA.

"I've challenged my team to make products that even our grandmothers can install and use," he laughs.

The YC experience so far has been "tremendous," he adds, with several partnerships and deals signed due to the networks that the superstar accelerator opens up.

Pakistani start-up leaves Facebook founder impressed

Interest in the product is pouring in from the US, Netherlands, Vietnam, and Mexico, but there's currently a waiting list. For customers in Asia, the delivery timeline can be up to two months. Manufacturing is done both in Shenzhen and Pakistan.

Umer's coy about whether there's been investor interest. He says they're growing pretty fast organically – talking to large dairy associations and farming bodies in the US – and are in the midst of locking down some serious deals.

"At the moment we're mostly concerned about maintaining quality and service levels as we ship more and more quantities," he explains.

Simultaneously, they're constantly talking to users and tweaking the product based on feedback. When it comes to larger farms, the issue isn't as much about improving milk yields as it is about operational issues, labor efficiencies, and the health of the animal. The farmers' dashboard is now taking into account these factors too.

"It helps to be laser-focused," says Umer.

This article originally appeared on Tech in Asia