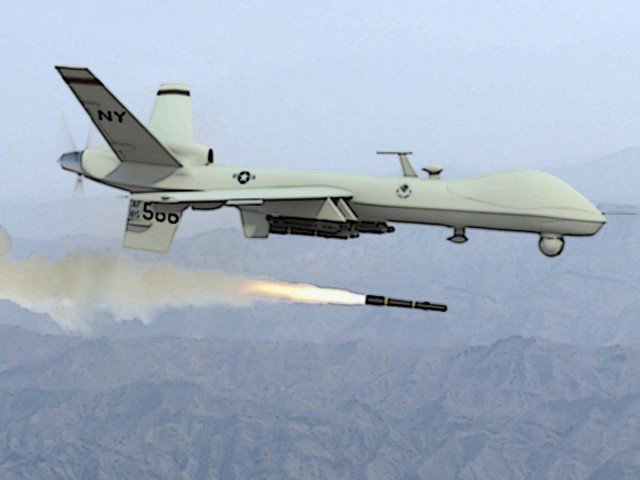 ---
PARACHINAR: A remotely-piloted US aircraft killed two men in Kurram Agency on Thursday, making it the first drone strike in Pakistan under the administration of President Donald Trump.

The attack occurred in the Sara Khwa area of Kurram around 1:30pm, eyewitnesses and political administration officials said. The drone, which was hovering low over the Pakistan-Afghanistan border, targeted two men riding a motorbike, one of whom was said to be an Afghan Taliban commander.

"The drone flew from Afghanistan and returned after decimating the motorcycle and its riders," a local government official said, confirming the strike and the casualties. "A missile fired by the drone struck the motorcycle," added village elder Haji Zamin Hussain.

Sources identified the slain men as Qari Abdullah Saibari, an Afghan Taliban commander for Khost province, and Shakirullah, who they added was also a member of the same insurgent group. However, a senior Afghan Taliban commander told AFP that the men belonged to the Haqqani Network.

The last US drone attack in Pakistan took place in May 2016, killing the then leader of Afghan Taliban Mullah Akhtar Mansoor as well as his driver in Balochistan.




ILLUSTRATION: TRIBUNE CREATIVE

The very first of the more than 420 attacks occurred in 2004 under the government of George W Bush, but it was under Barack Obama's that the use of pilot-less aircraft increased substantially, before tapering off in his second term. Last year there were only three drone strikes in Pakistan.

Drones have proven extremely controversial with the Pakistani public and rights groups. In 2013, Amnesty International said the US could be guilty of war crimes by carrying out extrajudicial killings.

Drone kills four in Yemen

Four suspected al Qaeda members were killed in a drone strike on a building in southern Yemen on Thursday, residents and local officials said.

The attack was in the al Saeed area of Shabwa province which is home to the al Awaleq tribe, the extended clan of Anwar al Awlaki, a militant cleric and US citizen killed in 2011 by a US drone. Residents said they believed US drones were used in Thursday's strike. (WITH ADDITIONAL INPUT FROM AGENCIES)

Published in The Express Tribune, March 3rd, 2017.
COMMENTS
Comments are moderated and generally will be posted if they are on-topic and not abusive.
For more information, please see our Comments FAQ