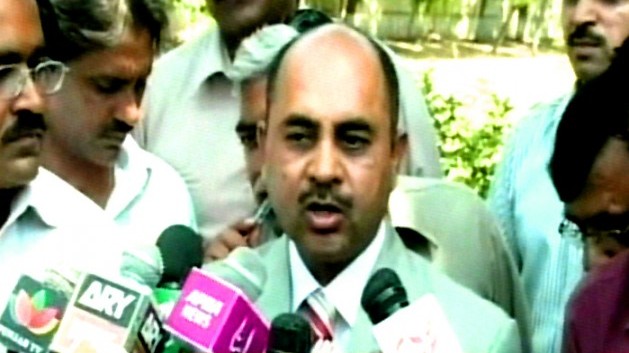 ---
LAHORE: An Anti-Terrorism Court in Lahore handed over Bank of Punjab fraud accused Hamesh Khan to NAB on a 14-day physical remand on Saturday.

Hamesh is the former president of Bank of Punjab and the main accused in Rs9 billion scam.

Judge Sadiq Watto of Anti-Terrorism Court number 5 accepted NAB's plea for the physical remand of Hamesh Khan for interrogation over allegations  levelled against him.

Hamesh Khan will now be presented in court on May 29 whereas he will appear in the Supreme Court on May 26.

The former BoP chief is accused of sanctioning Rs9 billion loan to Haris Steel Mills in violation of bank's rules.

Hamesh Khan, who is said to be a friend of former president Pervez Musharraf, was arrested by the US authorities in December last year at the request of Pakistan government.

All other accused in the loan scam have already been arrested.

NAB Spokesman Husnan Shah said that the main accused in the Bank of Punjab fraud case, Hamesh Khan will not be tortured. He is reported to be cooperating with the investigating team.

The Supreme Court was assured by the NAB that Hamesh Khan would be dealt according to the law and would be provided with all the facilities that other prisoners enjoy. He will be allowed to meet his family.

NAB spokesman said that Rs6 billion have been recovered and are being transfered to the Punajb Bank.

If convicted in the loan scam case, Hamesh Khan stands to get 14 years imprisonment.

Earlier, the high-profile banker was escorted from New York to Lahore by NAB Deputy Prosecutor-General Raja Aamir and the bureau's Punjab Deputy Director Rizwan Khan.

The trio was also accompanied by an official of the Pakistan embassy to ensure Khan, who is also a US citizen, wasn't mistreated by NAB or the police. He wasn't handcuffed at the airport and was escorted to NAB Punjab's Chunba House in a bulletproof vehicle, escorted by the police and the Elite Force.