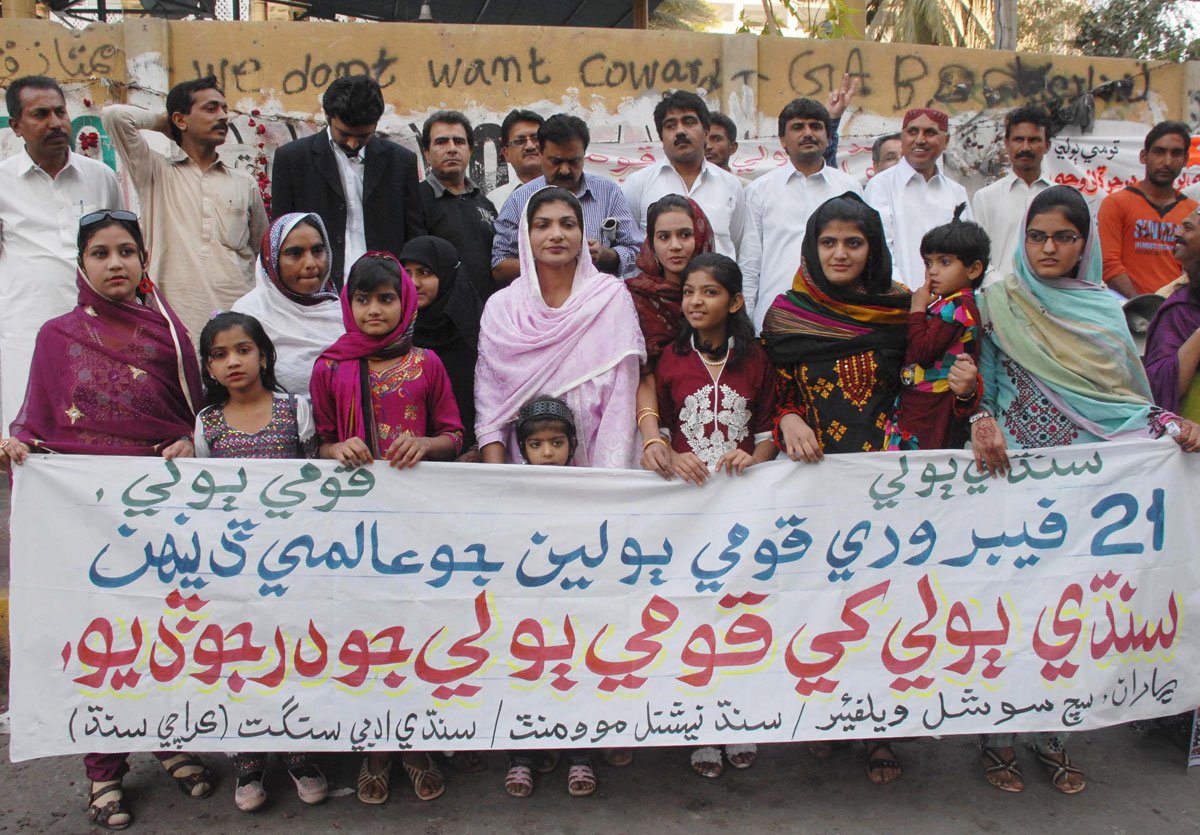 ---
KARACHI: Globalisation and colonisation have put cultures and languages on the crossroads of extinction.

Renowned linguist and former Sindhi Language Authority chairperson Dr Fahmida Hussain Memon said this at the 17th Hamza Wahid Memorial lecture at the Pakistan Medical Association House Wednesday evening. She was of the view that communication and its modern means have put distinctive identities and cultures in crisis.

Speaking at the talk, titled 'Globalisation of Cultures and Importance of Mother Tongue', Dr Memon read a research paper. "The young generation is reluctant to learn their mother tongue, traditions and cultural practices due to Westernisation, Americanisation and modernisation," she said, adding that linguistic diversity is being replaced with monolingual phenomena.

'Punjabi, Hindko, others will be written in Sindhi script'

"Some countries have [however] devised a concrete policy to preserve their culture, especially languages, since the extinction of language is an extinction of its identity, culture, folk wisdom and social history," she said.

She maintained that even though colonisation ended in the Subcontinent 70 years ago, we have never been freed from psychological colonisation, which has resulted in the failure of upholding faith in our own languages, culture and folk wisdom.

According to her, India is the only country in the Subcontinent that has succeeded in promoting their native languages by making them a medium of education in their respective states. She added that English has also been accommodated by them by giving it a status of second language.

Sindhi turns out to be second language of Pakistan

Meanwhile, in Pakistan, Urdu is the only national language, which is the mother tongue of a minority and the lingua franca of the majority of the people in the country. According to her, the government has been acting as a foster mother to the rest of the indigenous languages, which have been deprived of the status of provincial languages.

'Urdu is imperialistic'

"The lingua franca of the majority of the people in Pakistan, which is Urdu, can never be damaged but the local languages like Sindhi have been suffering for not getting the required status," she explained. Quoting a linguistic expert, she said in non-English speaking areas, it is not English but the local dominant language that kills the indigenous languages. She was of the view that Urdu has imposed linguistic imperialism over other languages of the country.

According to her, the Muslim League, in its own interest, attached a false pride to Urdu as a language of Muslims. "It was said, one Allah, one Prophet, one Quran and one language and hence Urdu was given the status of the national language [while] indigenous and progressive languages of all the provinces were also present, especially in Bengal and Sindh."

Before leading PPP, Bilawal must learn Urdu, Sindhi

She was of the view that every step taken for the promotion and protection of Sindhi from extinction is considered a funeral of the Urdu language. She added that Urdu, too, is facing a linguistic tyranny and imperialism at the hands of English due to globalisation, which needs to be checked.

According to Memon, linguistic experts divide the extinction of languages in three categories. The first type is linguistic genocide, where one language kills another language. Second is linguistic suicide, when the speakers of a certain language stop conversing in their own language. Third is transformation, where the form of language changes.

Memon said that sociologists have formulated an integrated, natural and cultural strategy to save languages from extinction. First is to protect the philosophical and cultural values. Secondly, everyone has to play their role, since any nation's existence, identity and culture are protected through the continuity of their languages. Thirdly, people need to take emergency steps before the assimilation, fusion or modification of our languages by a dominant language or due to globalisation. Fourthly, terminology pertaining to science, technology and social studies must be encouraged in languages. Fifthly, sociologists believe in improving the educational system and making the mother tongue a means of education. Lastly, the language should be made compatible for internet as computer technology is very important in the current era of globalisation.
COMMENTS
Comments are moderated and generally will be posted if they are on-topic and not abusive.
For more information, please see our Comments FAQ