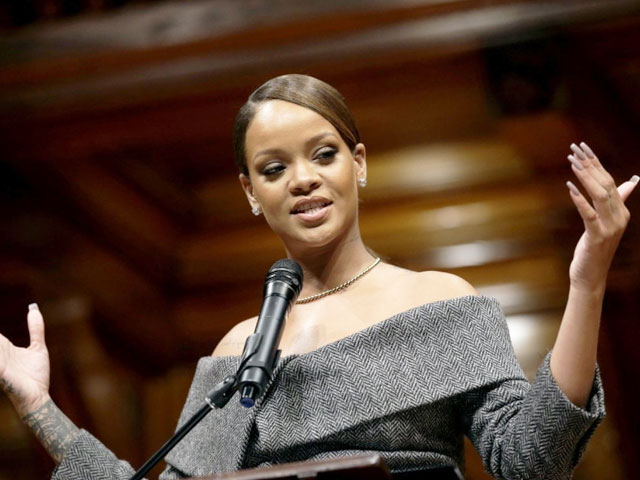 ---
Recently, Rihanna made headlines when she was announced Harvard's Humanitarian of the Year.

The We Found Love singer accepted the award on Tuesday, with utter sass and a fabulous hair flip as she began her speech.

Harvard names Rihanna as Humanitarian of the Year

"So," she said with a grin, "I made it to Harvard," and that legendary hair flip followed after that.




And Twitter is loving it!


MOOD: We see you @Rihanna at @Harvard! -- When you see the haters from your view at the top. 😏 #BadAndBougie, #BlackGirlMagic, #HairFlip pic.twitter.com/QaCiNEMzH2

— ebroji app is Lit! (@ebrojiapp) March 1, 2017


https://twitter.com/Tremainekojo/status/836714040923684868


Accepting the Harvard Humanitarian Award...
"So I made it to Harvard...💁🏼"
-Rihanna
😂 #gogirl #Rihanna #Harvard #bestgif #hairflip @rihanna pic.twitter.com/ZrorpbJSyl

— Jessica Polito (@jessica_polito) March 2, 2017


"Never thought I'd be able to say that in my life but it feels good." gushed Rihanna .

After a very Rihanna like start, the Umbrella singer went on to show her gratitude, saying she was extremely 'humble.'

She went on to say,  "I would say to myself, when I grow up and I can get rich, I'm going to save kids all over the world," she said. "I just didn't know I would be in the position to do that by the time I was a teenager."

Drake's failed attempt to kiss Rihanna at the VMAs just broke a million hearts

"People make it seem way too hard, man," Rihanna said in her speech. "The truth is, and what that little girl watching those commercials didn't know, is that you don't have to be rich to be a humanitarian. You don't have to be rich to help somebody. You don't gotta be famous. You don't even have to be college-educated … I mean I wish I was … especially today … I might come back."

"But it starts with your neighbour, the person right next to you," she added. "You just do whatever you can to help in any way that you can."

She concluded the speech as the room erupted in applause and cheers.

You can watch her speech here:


Have something to add in the story? Share it in the comments below.