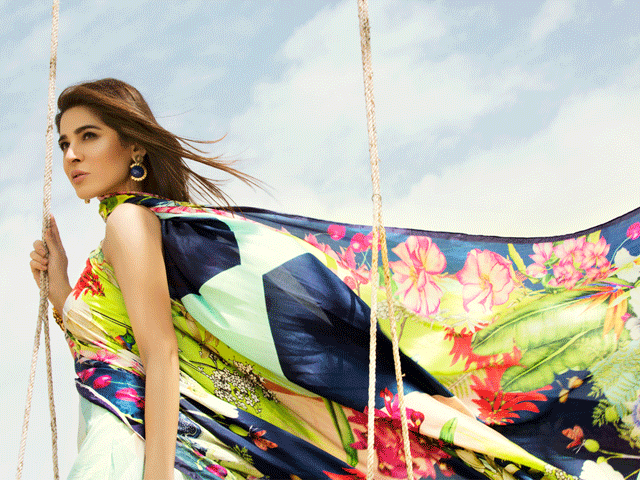 ---
LAHORE: When Saira Shakira first thought of Crimson Lawn, the brand had but one objective: creating beautiful women's wear at affordable prices. It's latest collection of luxury lawn – titled Solivagant – is an ode to the spirit of wandering; of the curiosity of the free-spirited woman.

Solivagant literally means 'solitary rambling' and in this way, the collection seeks inspiration from the strangeness and fearlessness of embracing all that is new. It consists of eight distinct designs in two different colours each, with embroideries inspired by mountains, water, exotic floras, ancient relics and other prints reminiscent of Alice in Wonderland.

One piece three ways: Tena Durrani

"Innovation defines the Saira Shakira brand. We wanted our first lawn collection to reflect our cutting-edge aesthetics and embellishments. You will see textured embroideries, quirky metallic details, 3-D embellishments and some lovely, scenic illustration in Solivagant," Saira Faisal told The Express Tribune. "We hope our patrons will enjoy each design as each one of them tells the story of a whole new experience."

The designer duo has chosen none other than singer and actor Ayesha Omar as the face of Solivagant. Asked about this, Shakira Usman stated, "Ayesha is a well-known face. Besides, the concept of our shoot was very demanding and we felt like only she would be comfortable with it. We knew she'd be willing to go the extra mile for us. While everyone else is taking unknown international models, we wanted to be different." Shakira added that it was also difficult finding an affordable fresh face for the debut lawn campaign.

"Doing Crimson has been a lot of fun because the team is amazing! What I liked best about Saira and Shakira both is that they're really calm, unlike many other designers. Their worth ethic is exceptional, despite the tricky conditions we shot in," shared Ayesha, when asked to describe her experience. "The first location was extremely windy. But I loved shooting at Mubarak Village. The sun, sand, sea and wind made for a perfect day."

Ayesha added that she has high expectations attached to Solivagant. "The prints are just amazing! They're very different from what everyone else is trying to do," she stated. "But surely, Crimson's theme is very strong and has its own individuality and uniqueness. I'm an artist myself and my style of painting was also very surrealistic, as was the mood of the shoot. Every shot is like a Dali painting: enticing and dreamy."

Have something to add to the story? Share it in the comments below.