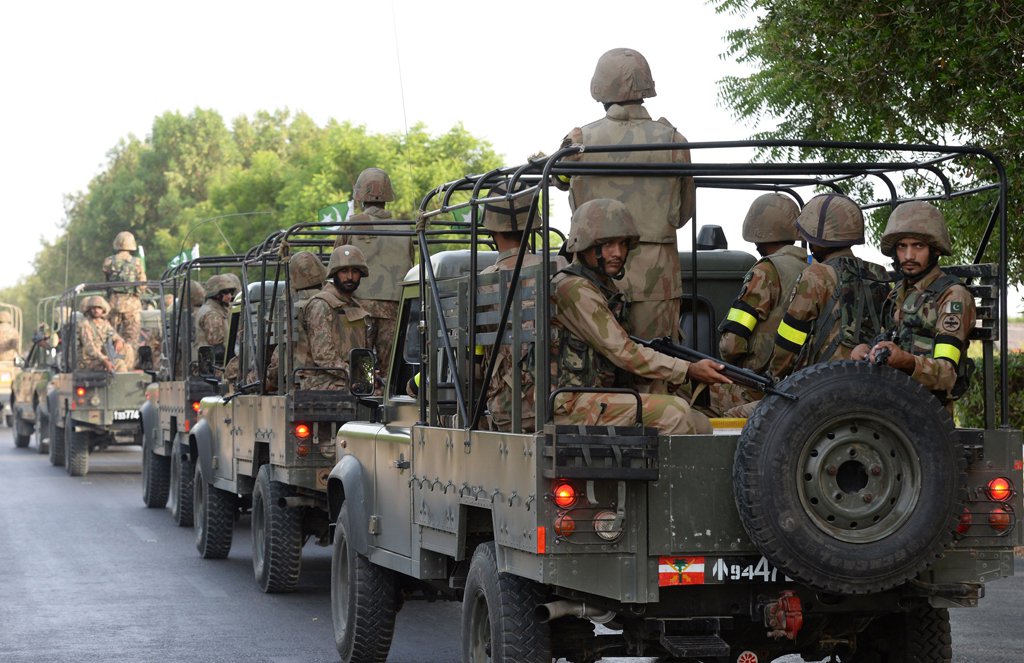 ---
KARACHI: The military has said that a recently launched operation also envisages a countrywide 'de-weaponisation' campaign. But no timeline can be given for the completion of Operation Radd-ul-Fasaad, said Major General Asif Ghafoor, the director general of the Inter-Services Public Relations (ISPR), on Tuesday.

The operation was launched on February 22 after a string of bombings in different parts of the country, including the one at the shrine of popular Sufi saint Lal Shahbaz Qalandar in Sehwan, killed and maimed dozens of people.

Speaking in a television interview, Maj Gen Ghafoor said the very name of the operation was self-explanatory. "It is aimed at eliminating the elements creating disorder and mischief, whether they are in or outside the country," he added.

Pakistan Army recovers huge cache of arms in NWA

The military has carried out a series of operations, mainly in tribal regions and adjoining parts of Khyber-Pakhtunkhwa, since 2007 to cleanse these areas of terrorists. And the ISPR head said that all previous operations, including Zarb-e-Azb, had achieved their objectives.

About the objectives of Radd-ul-Fasaad, he said all previous operations were primarily aimed at decimating hideouts of terrorists in different areas and restoring the writ of the state there.

"And the main objective of Operation Radd-ul-Fasaad is to consolidate the gains of the previous operations," he added. "This operation seeks to smoke out facilitators of terrorists inside the country."

"The operation also envisages a de-weaponisation campaign," he said but refused to give a timeline for its completion.

Maj Gen Ghafoor said it was not only an operation of all the law enforcement and security agencies but also an operation in which every Pakistani had to play a role. "And collectively we will stamp out 'Fasaad (disorder)' from the country."

He sought to quash the impression that other civilian institutions were not doing their job in implementing the 20-point National Action Plan (NAP) against terrorism. "Every institution is doing its work wonderfully," he said.

Asked about the recent uptick in terrorist violence, Maj Gen Ghafoor said these attacks could not be interpreted as resurgence of terrorism. "The terrorists who had been driven out of their hideouts in the country have now taken refuge in neighbouring Afghanistan," he added.

"Afghanistan is a battleground of external powers and these terrorists have complete support of these powers, including RAW [India's Research and Analysis Wing]," he said. "Such attacks were not possible without RAW's support. And Operation Radd-ul-Fasaad will break this nexus [between terrorists and RAW]."

Maj Gen Ghafoor said it was wrong to say that Afghanistan was directly involved in the recent terror attacks. However, he advised the Afghan government to see Pakistan through the lens of its own interests. He said according to the army chief's instructions, there existed a military-to-military contact between the two countries.

To a question about closure of border crossing between the two countries in the wake of the Sehwan bombing, the ISPR chief said the crossings were closed 'temporarily'.

"Ultimately, the crossings will be reopened," he said, adding that what was needed was an effective mechanism on both sides of the border to stop movement of terrorists.  He said Pakistan had effectively stopped terrorists from infiltrating into Afghanistan and "now Kabul needs to take the required measures".

To a question about the recent controversy with regard to alleged racial profiling of ethnic Pakhtuns, Maj Gen Ghafoor said: "Terrorists have no religion, no sect, no race and no nationality."

Gilgit visit: Army prepared to avert 'threat from east', says COAS

"We all are Pakistanis first and we have to counter this propaganda," he said, adding that Operation Radd-ul-Fasaad was across-the-board and targeted all terrorists regardless of their ethnic or provincial affiliations.

He agreed that anti-Pakistan forces might be stoking this controversy in a bid to exploit the fault-lines in Pakistan.

Asked about the army's role in providing security for the final of Pakistan Super League (PSL) scheduled to be played in Lahore on March 5, he said the army would do every task assigned to it. "We will play our role and do everything to secure the country."
Published in The Express Tribune, March 3rd, 2017.
COMMENTS (2)
Comments are moderated and generally will be posted if they are on-topic and not abusive.
For more information, please see our Comments FAQ