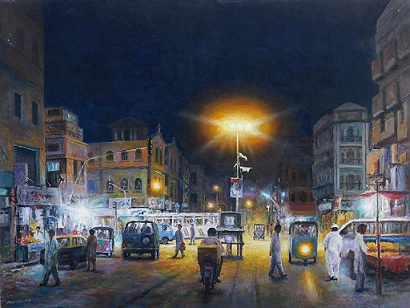 ---
KARACHI: One's love for their city grows many times more if they start to paint it.

Using the medium of oil on canvas, artist Hanif Shahzad's painting exhibition, 'Rhythm of Kolachi', opened Thursday evening at the Artciti Gallery.

Shahzad has captured the grandeur of the great monuments, busy markets and street life of the city in his paintings of the Mohatta Palace, Empress Market at night time, Fresco Chowk, Lea Market Tower, Burnes Road at night time, the views from Denso Hall and the famed Zaibunissa Street.

Paintings on display: Exhibition showcases landscapes, cityscapes at NCA
Shahzad has been painting since the last 25 years and shared that he has never felt bored by this city. "I have been born and bred in Karachi. It's a big city and I have a strong emotional attachment to it," he told The Express Tribune.




"It [Karachi] is a multicultural city which has many kinds of people," said Shahzad while comparing Karachi to their cities of the country.

The artist, a civil engineer by profession, said that has taken up painting as a hobby and was first inspired to paint while he was still studying at the DJ Science College where the old façade of the building inspired him to pick up a paint brush.




Painting exhibition: Artists urged to learn using imagination
Shahzad believed that he was so involved in painting the city that he only noticed the big picture. "Karachi is densely populated which makes it crowded and like a mini-Pakistan," he said.




With as many as 24 art pieces on display, the exhibition continues till March 1.
COMMENTS (1)
Comments are moderated and generally will be posted if they are on-topic and not abusive.
For more information, please see our Comments FAQ