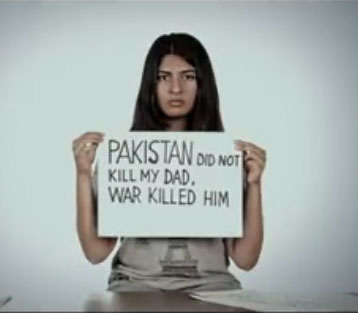 ---
NEW DELHI: Rallies were held in India's capital on Tuesday in support of a student who received rape threats over her controversial remarks on Pakistan after being mocked online by celebrities, including cricketer Virender Sehwag.

Hundreds of students from several colleges in New Delhi took to the streets to protest against the threats and recent campus violence, amid an on-going debate on nationalism and fears of the muzzling of freedom of speech under Prime Minister Narendra Modi's government.

"My nationalism is beyond your claustrophobic nationalism," read a placard at the rally, with protesters shouting slogans against the right-wing student group linked to Modi's Hindu nationalist party.

The latest controversy was triggered after a 20-year-old student Gurmehar Kaur criticised the Akhil Bharatiya Vidhyarthi Parishad (ABVP) students' union over its role in campus violence. This was followed by a video post which read: "Pakistan did not kill my dad, war killed him."

Virender Sehwag mocks girl for supporting Muslim students' right to free speech

Kaur's father, a captain in the Indian army, was killed in an attack on a military camp near the Line of Control in 1999.

But her olive branch approach to India's nuclear-armed arch-rival led users to lampoon her, including celebrities such as Sehwag. He retorted with a Twitter post saying: "I didn't score two triple centuries, my bat did."

The post by Sehwag -- one of India's all-time leading run-scorers before he retired in 2015 -- went viral on social media, with many trolling the 20-year-old student online and threatening her with physical violence.

"I have been getting a lot of threats on social media. I think it is very scary when people threaten you with violence and rape," she told the NDTV network.

Asked about how felt towards Sehwag, she replied, "Honestly, this just breaks your heart because these are people you grow up looking up to."

Critics of Modi's government say that nationalist sentiment has grown sharply during his premiership and authorities too often turn a blind eye when right-wing groups respond aggressively to any show of dissent.

The Hindustan Times said on Tuesday that the threats against Kaur represented "an attack on the fundamental right to express an opinion which the likes of the ABVP and its backers do not find comfortable".

"It has become the norm to intimidate students, writers, professors, filmmakers and journalists to name a few when they express an independent opinion in any medium," it said in an editorial.
COMMENTS (2)
Comments are moderated and generally will be posted if they are on-topic and not abusive.
For more information, please see our Comments FAQ