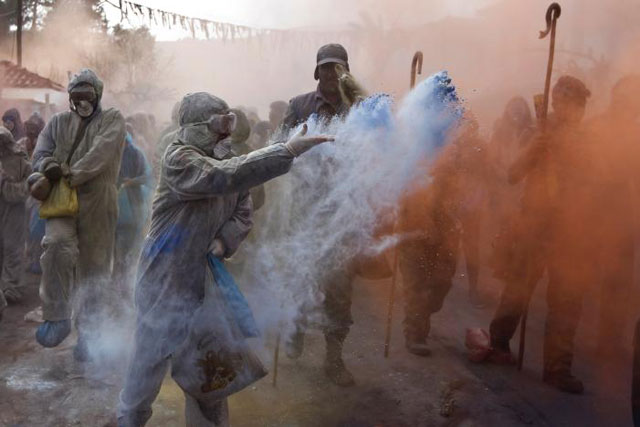 ---
Greek villagers staged a street battle on Monday with bags of colored flour in an annual tradition called the Flour War.

The popular event attracts visitors from across the country and overseas to the coastal fishing town of Galaxidi, about 200 km (124 miles) west of Athens.

"Clean Monday" celebrations mark the end of carnival season and the beginning of the Greek Orthodox Lent fast.

Farm fresh: Farmers' market now serves fresh food two days a week

"It's an outburst. You let off steam. What else to do?" said participant Efi. "If you are feeling downcast in Athens, the villages, anywhere with this [economic] crisis, you come here and let off steam."

Villagers fill hundreds of bags with baking flour, tinted with food coloring, to be used as bombs.

The battle starts with the ringing of cow bells and then the flour flies as participants parade, fire flour bombs and try to douse each other with as much flour as possible.

Food Branding : Minister urges promotion of local cuisine

Anyone who does not wish to be covered can watch from across the village quay. Villagers cover their houses with plastic sheeting and don goggles and plastic suits.

The custom is believed to have originated in 1801 when Galaxidi residents defied the Ottoman rulers occupying Greece by celebrating the forbidden carnival and painting their faces with ash while dancing through the streets.