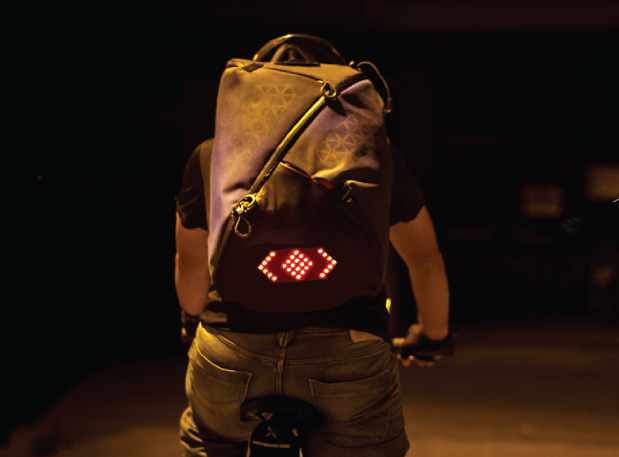 ---
Gandharv Bakshi keeps his bike near the wall by the door. Backpacks line the walls of his office, and, in the open air, one can hear a little of the quiet street below. He apologizes to me for the dust and asks if I ride a bicycle. When I admit that I can but don't do it very often, he recommends me some weekend trips.

At its heart, Lumos is a team of bikers that makes hardware for bikers. Winner of Revvx Hardware Accelerator's first batch's DemoDay, it landed a presentation spot at HardwareConnext month in the Bay Area.

Its latest product is Aster, a backpack that lights up and, via a handlebar sensor and a smartphone app, tells cars behind riders if they're turning or stopping. That helps with safety – globally, 1.25 million people died in road traffic accidents in 2013, and half of those were motorcyclists, cyclists, and pedestrians.

Electric car startup Faraday Future unveils 'new species' of vehicle

Gandharv says the company has just crossed 100,000 Aster orders, mostly in the US, Germany, the UK, and Australia. California alone makes up over 10 percent of its orders. But co-founders Gandharv and Lavina Mahbubani didn't plan for that. When it started, Lumos just wanted to charge your phone.

A Solar Start

Lumos' products include the Unplug Solar 2K (US$99), the Thrillseeker (US$134), and the Aster (starts at US$119). The Unplug Solar 2K and the Thrillseeker are based off the co-founders' original idea in 2014 to build solar backpacks. The Thrillseeker, in addition to being a solar panel, is a 12-liter hydration bag that can also carry a separate three-liter hydration bladder.




The solar panel allows the backpack to charge items like smartphones. That power could then be delivered to your phone or other device via a USB port in the bag. This is helpful if you need your phone to navigate while riding.

The founders are cyclists themselves, and a lot of their feedback comes from their own experiences or experiences of their customers. "We have a guy who went on a 20,000-kilometer ride, across the length and width of India," shares Gandharv. Via the bag, the biker had charged his phone with the sun for most of the trip.

Here's a startup that's using algorithms to modernize Southeast Asia's printing industry

The solar power was also helpful for powering other mechanisms like bike lights. "Those were things we built for ourselves, not for the outside audience, just because we can," says Gandharv. They threw the product on Amazon and got buyers from countries including the US, Germany, and their surprise dominating market – Mexico.

The chief piece of feedback: give us lights on the bag.

Like a lot of wear designed for bikers, the solar bag was using reflective strips, which help with visibility when another vehicle shines its lights on the biker. However, the co-founders' own experiences riding in different countries, combined with some alarming bike safety statistics, made them want to take things a step further.

The Importance of Design

Their answer was Aster – a backpack that uses an LED panel to signal to drivers that (1) you're there and (2) the actions you're planning to take. Through a smartphone app, it connects to a sensor on your bike's handlebars. That will signal lights on the back of the bag that will show if you're stopping or turning. Meanwhile, lights on the front and back of the backpack keep you visible in the dark.




The rechargeable battery will light the backpack continuously for 10 to 15 hours, and the light is visible from up to 250 meters away in clear conditions. If a car driving 62 mph stops, it takes anywhere from 104 to 144 feet to come to a complete stop.

Many of the six-person team's "learning curves" involved changes in small, design-oriented details, a specialty of Lavina's. Those minute changes can make all the difference in getting a customer to purchase, says Gandharv. For example, while neon colors are most easily visible on the road, Lumos found that customers want "to blend in [the] office and stand out on the road." Aster's handlebar sensor is in the process of an update – customers want to buy something sleeker in appearance.

Other changes take different countries into account, where the rules for cyclists may vary. In some countries, a blinking light is illegal, so Aster has a steady light and slow blinking options. There are also settings for conditions like fog.

This Pakistani startup is helping increase worker incomes by 400%

With slightly different light placement, the bag resembles that of UK-based Go LED, which has been available since June 2015. Go LED costs US$96 and is available in Europe. Another company called Lumos, based in Boston and Hong Kong, takes the same approach to biker visibility – but through a helmet instead of a backpack.

While the backpacks were originally made in Bangalore, Lumos has shifted its manufacturing to Shenzhen in an effort to scale. It is working on a crash alert system for Aster, so if a cyclist gets into an accident, a nearby authority knows something's happened.

Aster is available for pre-order on Indiegogo, where the company reached its crowdfunding goal in May 2016. Backpacks ordered through the page have an estimated delivery date of April 2017, but it has already delivered bags to earlier backers in 18 countries.

[fbpost link="https://www.facebook.com/techinasia/videos/1349661875072222/"]

This article originally appeared on Tech in Asia.