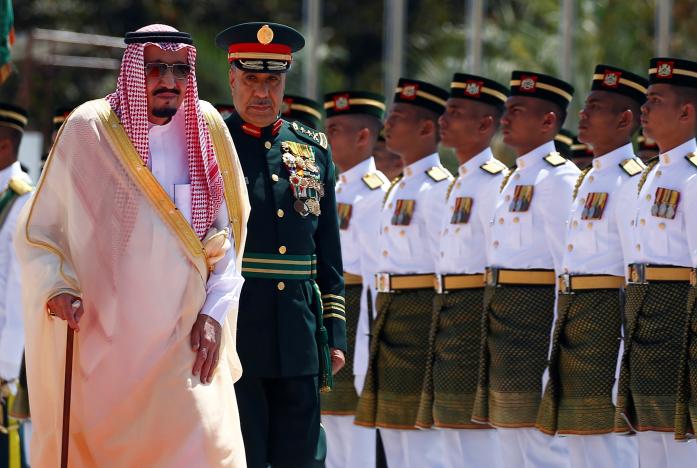 ---
Saudi Arabia's King Salman bin Abdul Aziz al-Saud kick-started his first official royal tour of Asia on Sunday when he arrived in Malaysia.

Using his personal escalator to descend from the plane, the King was received by the Malaysian Prime Minister Najib Razak before being whisked away in a heavily guarded convoy for a state ceremony at Malaysia's parliament grounds, Reuters reported.

Malaysia rolls out red carpet as Saudi king kicks off Asia tour

The escalator is one of the equipment flown in for the royal visit. According to The Strait Times, the official carrier for the royal trip to Indonesia from March 1 to March 9, Airfreight service provider PT Jasa Angkasa Semesta (JAS) claimed that the royal entourage consists of 459 tonnes of cargo.

"We have been officially appointed to handle all [cargo] belonging to the king's entourage aircraft," said the President of JAS, Adji Gunawan.

Speaking about the royal entourage, Gunawan added that about 63 tonnes will be unloaded at Halim Perdanaksuma Airport in east Jakarta while the remaining 396 tonnes will be taken to Ngurah Rai International Airport in Bali.

The cargo for the week long trip in Indonesia, including two Mercedes-Benz S600 limousines and two electric lifts, was transferred in 27 flights spread over two weeks beginning February 15. According to the President of the Airfreight company, JAS deployed 178 workers in Jakarta and 394 workers in Denpasar for the royal visit.

Saudi king eyes investment, skills on rare Asia tour

According to Reuters, King Salman is expected to spend the last two weeks of March on holiday in the Maldives while local newspaper Mihaaru reported that three resorts have been reserved for his stay.