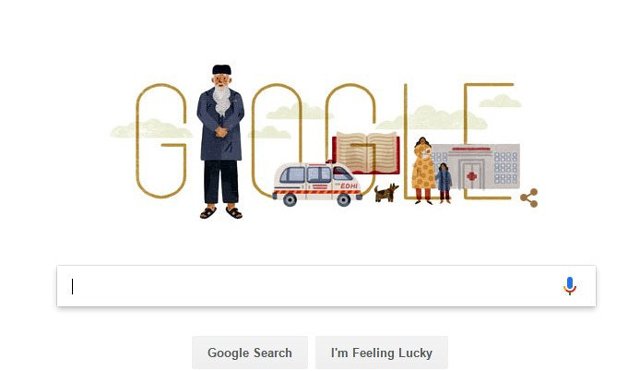 ---
Late philanthropist Abdul Sattar Edhi was honoured by Google on Tuesday with a doodle depicting his organisation's welfare services.

Edhi who was born on February 28, 1928 and passed away last July would have been celebrating his 89th birthday today.

Edhi: The richest poor man

Calling him an "angel of mercy", Google asked people to "lend a hand to someone in need today" in celebration of the life that the philanthropist lived.

The Google doodle shows Edhi clad in a simple shalwar kameez, surrounded by his legacy -- an Edhi ambulance, a hospital, a woman holding a child and even a dog, which pays tribute to his animal shelter.

Google's tribute to Edhi can be seen in United States, Iceland, Portugal, Australia, Sweden, Greece, New Zealand, Japan, Estonia, UK, South Korea, Ireland and Pakistan.

Abdul Sattar Edhi passes away in Karachi

The California-based tech giant frequently changes its logo on the homepage to celebrate anniversaries or events or to simply honour or pay tribute to scientists, artists, philanthropists, etc.

"The doodle selection process aims to celebrate interesting events and anniversaries that reflect Google's personality and love for innovation," the company says.

Edhi's legacy

The philanthropist's reputation for austerity and generosity resonated deeply in Pakistan, a country of 190 million people whose government is riddled with corruption and where public health and welfare services are weak.

The Edhi Foundation runs a vast fleet of ambulances, orphanages and medical clinics across the country.

In a nation often riven by social, ethnic and religious strife, Edhi won respect from every strata of society for an ascetic lifestyle that was devoted to helping the poor regardless of their background.

Edhi, the obstinately humble hero to Pakistan's masses

Edhi lived in a bare room in Karachi, alternating between his two suits of black clothes and occasionally listening to recordings of Quranic verses on a battered old tape recorder.

"When my ambulance takes a wounded person who is in pain to the hospital, when people reach the hospital, I find peace in knowing I helped an injured person who was in pain," Edhi told Reuters in an interview in 2013.

"My mission is to love human beings … Each day is the best day of my life."

Throughout his life and after he died, many questioned why Edhi never received the Nobel Peace Prize. In his last interview with The Express Tribune, Edhi said, "I don't care about it. The Nobel Prize doesn't mean anything to me. I want these people, I want humanity."

Watch his interview here:


COMMENTS (6)
Comments are moderated and generally will be posted if they are on-topic and not abusive.
For more information, please see our Comments FAQ