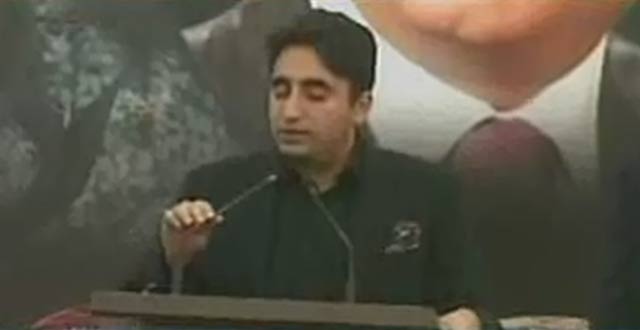 ---
Pakistan Peoples Party (PPP) Chairman Bilawal Bhutto Zardari on Monday said if history is taken into account, one cannot be hopeful about the judgement of the Panama Leaks case going against the Sharifs.

Upon being asked to share his opinion about the verdict of the Panama Leaks case, which the Supreme Court reserved last week, Bilawal while addressing the media in Tando Muhammad Khan, said, "If we look at history, we are not very hopeful that the judgement will be against the Sharifs, but we're watching."

SC reserves judgment in Panamagate case

While heading a five-judge bench of the apex court hearing a slew of petitions against Sharif family, Justice Asif Saeed Khosa last week observed that 26,000 pages were submitted in the Panamagate case and the judges will read "each word" of it. He observed that it was not a case wherein a short order could be passed.
"The court will decide the case only after considering the material submitted in the court and will announce its verdict in accordance with the law and Constitution," Justice Khosa remarked.
Meanwhile, Bilawal, when asked to comment on the launch of Operation Raddul Fasaad before the completion of Operation Zarb-e-Azb, said, "We cannot be successful in any counterterrorism efforts until the National Action Plan (NAP) is fully implemented."

Army launches Operation Radd-ul-Fasaad against terrorists across the country

In response to the continuing terror wave, Pakistan Army earlier last week launched 'Operation Radd-ul-Fasaad' across the country. "Operation aims at indiscriminately eliminating residual threats of terrorism, consolidating gains of operations made thus far, and further ensuring the security of the borders," the Inter-Services Public Relations (ISPR) said in a statement on Wednesday.


According to the military's media wing, air force, navy, civil armed forces and other security and law enforcement agencies will jointly participate in efforts to eliminate terrorism from the country.
COMMENTS (2)
Comments are moderated and generally will be posted if they are on-topic and not abusive.
For more information, please see our Comments FAQ