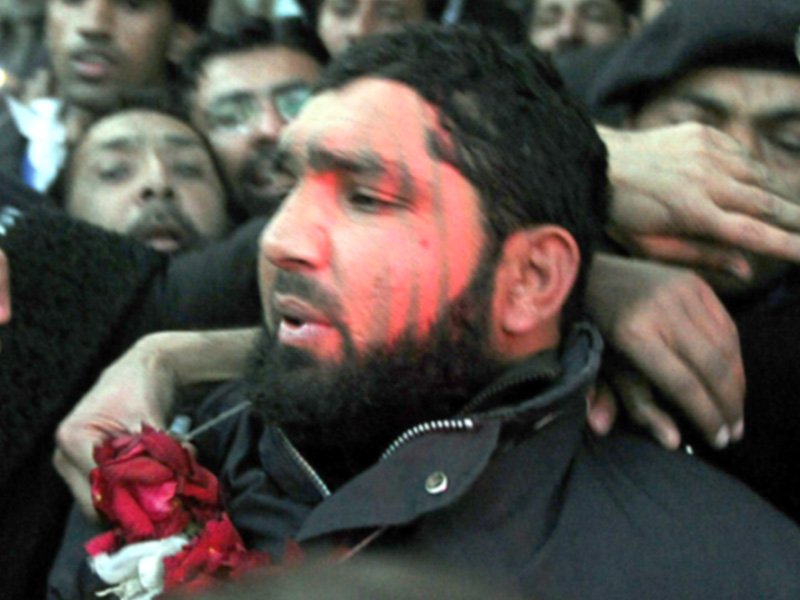 ---
BARA KAHU: Although the government has renewed its vow to root out extremism after a fresh wave of attacks, but a rose-covered shrine in Islamabad sends a different message.

Followers of Mumtaz Qadri are set to fete him as a hero at his tomb on Monday, the start of a three-day festival marking the anniversary of his hanging on February 29, 2016.

Qadri assassinated Punjab governor Salmaan Taseer in 2011, angered by the politician's reformist stance on blasphemy laws. The state's decision to execute him provoked an uproar among hardliners.

Salmaan Taseer's killer Mumtaz Qadri executed

"There could be 400,000 people," Qadri's father Malik Bashir Awan said as he supervised preparations for the commemoration from his plastic chair at the shrine.

Authorities appear unwilling to oppose it.

And while the government showed unexpected determination by executing Qadri, his family say it did not prevent them from sanctifying him with the white marble tomb, adorned with four tapered minarets and a tiled green dome.

Each day dozens visit the shrine, built on a family plot bordering Islamabad but within the capital's territory, to seek divine intervention and leave flowers.

Qadri's family do not intend to stop there. His father hopes to build a madrassa on the site. Donations from supporters are already pouring in.

The most incisive commentary on Mumtaz Qadri's execution

For Arif Jamal, an expert on radical extremism, the presence of the shrine helps to bolster beliefs that contribute to extremism. "Even for a peaceful Pakistani, the mere existence of such a shrine convinces people that the killing of Salmaan Taseer was actually good," he said. "It is a first step in radicalisation."

But cleric Hanif Qureshi, whose fiery speeches helped inspire Qadri's actions, was dismissive. "One year has passed, nobody has killed anyone," he said.

What has NAP achieved so far?

Observers are divided over the government's inaction.

It is not that Qadri's supporters are strong, said Saiful Mulook, one of the prosecutors at his trials - "it's the government's will which is weak". "It's discouraging," Mulook said.

However, the cost of taking action against the shrine could outweigh the dangers of allowing the memorial to flourish, said Zeeshan Salahuddin of the Center for Research and Security Studies. "If the government takes a step, goes after this shrine, there's a very, very good chance there's going to be anarchy in the streets," he said.

Over 100 clerics arrested in Lahore for trying to 'celebrate' Salmaan Taseer's assassination

There are concerns that if Qadri's family is able to build their madrassa, they could train a new generation of religious fanatics, like at the influential and radical Red Mosque which has long operated in the heart of Islamabad.

Muhammad Noman, a 26-year-old visiting the tomb from Karachi, said he was inspired by Qadri. "He sacrificed his life for our faith. May God give us opportunities like him to give our lives," he said calmly.