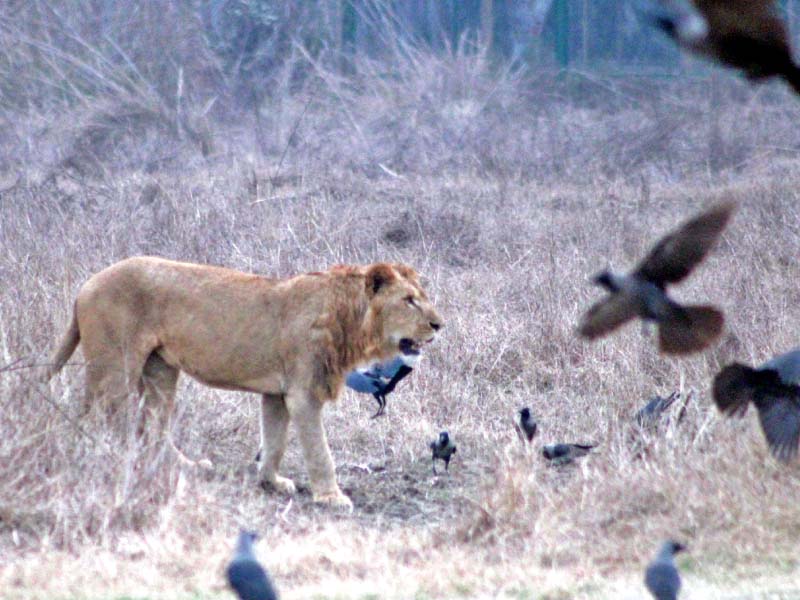 ---
LAHORE/ KARACHI: Roaring lions, hissing tigers, singing birds and bleating and grunting of deer will captivate your senses at the Lahore Zoo Safari.  The journey will take you to the wildlife world that you might not have experienced before.  The adventure begins in right earnest the moment you enter the facility. The amazing sight will leave you enthralled for many days to come.

The Safari Zoo is not like other typical zoos that we had visited before. It is something entirely new and unique and the first experience will definitely leave you amazed.

Lion cubs a major attraction at Lahore zoo

The Lahore Zoo Safari, formerly the Woodland Wildlife Park, was established in 1982 over an area of 242 acres. The funds for the public facility were provided by the government. Later in 1998, it was handed over to the Punjab Wildlife and Parks Department by the forest department.

The wildlife department officials soon came up with a plan. In 2004, the largest walkthrough aviary of Pakistan was constructed in the facility and was opened for visitors. In addition, other facilities like boating and fishing were also built near a lake in the park's premises. The lake is the biggest in the city and consists of four islands.




In 2006, the Government of Pakistan sanctioned Rs87 million to reconstruct a two- kilometer long road leading to the wildlife park to make it more accessible for commuters and visitors. There are also safari tracks in the lion and Bengal tiger areas, covering an area of 80 acre.

On January 21, 2009, the park was extensively renovated and renamed the Lahore Zoo Safari. The wildlife park is now considered to be an extension of Lahore Zoo that is situated in the centre of the city.

Meanwhile, the species housed in the safari include Indian peafowl, Bengal tigers, common pheasant, emu, lions, mute swan, nilgai, ostrich and silver pheasant among others.

Meanwhile, a worker at the facility, who requested anonymity, told The Express Tribune, "I have been working here for more than two years. Families throng in large numbers on a daily basis to see the animals that are kept in the safari." He added, "All animals are properly fed and looked after."

Nabeel Sheikh, a visitor who had come along with his family and relatives, said, "This place is certainly amazing. Keeping in view the less number of recreational spots for families, I think the government should establish zoo safaris in other cities too. "

Another visitor Shiraz Pervez, a resident of DHA, Lahore, said he had come to the facility along with his friends. He said, "I love animals and always wanted to look at lions more closely." He maintained, "The safari is the best place for animal lovers."




Seema Sibtain, a doctor by profession and resident of Johar Town said, "I am fond of animals from my childhood. This is my first visit and I really enjoyed every bit of this safari.".

Unsustainable and illegal wildlife trade in Pakistan

Interesting facts

• In July 2016, a record 34,340 tourists visited Lahore's Safari Zoo and an income of Rs0.93 million was generated by wildlife and parks department.
• On April 26, 2016, a massive corruption scandal was unearthed regarding the procurement of wild animals to be kept at Lahore Zoo Safari. The animals were purchased at higher rates than the actual market price.
• In March 2016, at least 20 pheasants and around a dozen peacocks died of a sudden outbreak of Newcastle disease, commonly known as 'Rani Khait'.
• In 2014, the Safari Zoo management introduced 'Animal Adoption Scheme'. The scheme aimed to create direct bonding between people and wild animals and to encourage their conservation.

Caught off guard Fatal attacks in Safari

The Lahore Zoo Safari has witnessed a number of fatal animal attacks that included one incident in which a human was involved.
— In October 2006, a female Bengal tiger killed another female.
— In January 2007, a male tiger killed another male after a dreaded fight.
— In June 2008, a Bengal tiger attacked a security guard deputed within the park. As a result, the jugular vein of the victim was ruptured causing blood loss and unconsciousness. Luckily, the guard survived the attack and was taken to hospital for surgery.

Published in The Express Tribune, February 27th, 2017.
COMMENTS
Comments are moderated and generally will be posted if they are on-topic and not abusive.
For more information, please see our Comments FAQ