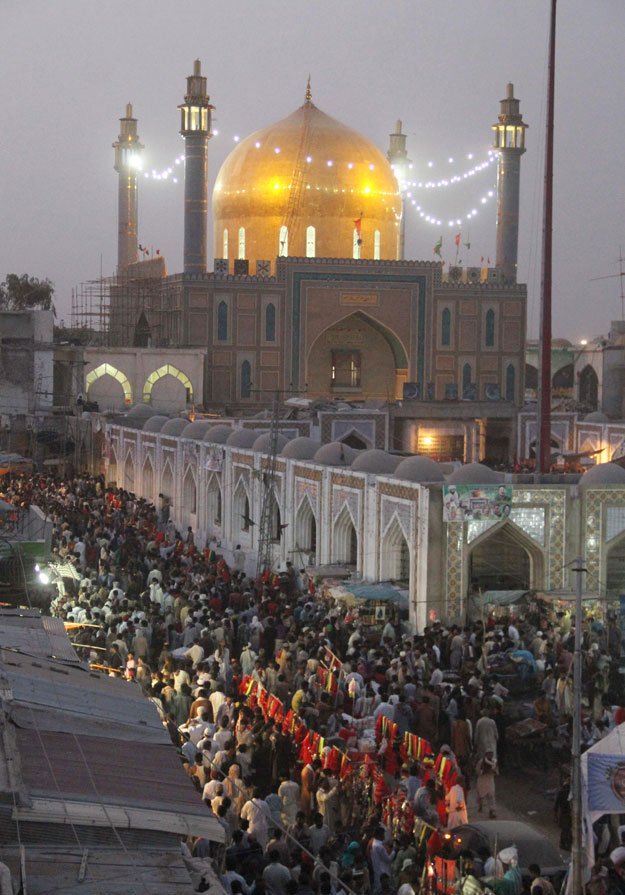 ---
KARACHI: There's something in music that binds humans with each other and the entire universe. And the music of love that originated at shrines is a force to be reckoned with. The suicide blast killed 88 people at the shrine of Lal Shahbaz Qalandar in Sehwan last week was an attempt at scaring people off. But all it did was draw even more to the shrine.

To show support and spread the message of love and peace, some local musicians held a peace jam at the shrine on Saturday, merely a week after the attack.

Ali Gul Pir's initiative saw Sufi rock band Sounds of Kolachi and Coke Studio percussionist Abdul Aziz Qazi perform and ended up being a more spiritual experience than it was meant to be.




The jam began after the Saturday night dhamaal with Ahsan Bari on guitar, Quaid Ahmed on vocals, Gul Muhammad on sarangi, and Qazi on cajón and darbouka. As the group performed in the courtyard, a large crowd gathered. A couple of local musicians joined in with nagaras and eventually, the moment became so transcendental that some started dancing. One woman, in fact, went into a trance.

"It was unbelievable. I'm speechless. Did you see how the crowd gathered? And the two musicians who joined in, we have never met them but they came and matched what we played. This is music!" exclaimed Qazi.

"It's love. True love," said Bari. "They had never seen us perform and might not ever again. But in those 30 minutes or so, we were all together as one," he said, amazed at how the music pulled the crowd in.

Bari said the experience reminded him of Carl Sagan's Pale Blue Dot. "It made me realise how everything, every war and everything that has ever happened is part of this one pale blue dot. This is true love and it just goes on to prove Qalandar's power. Terrorists can try all they want but they can't stop Qalandar."

Published in The Express Tribune, February 26th, 2017.
COMMENTS
Comments are moderated and generally will be posted if they are on-topic and not abusive.
For more information, please see our Comments FAQ