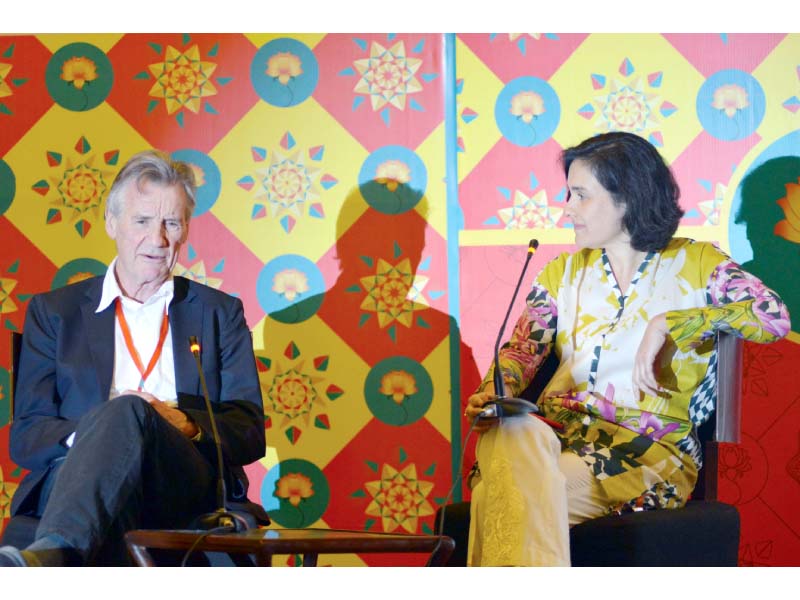 ---
LAHORE: In an era when Donald Trump has become the US president, satire is more relevant than ever as a universal method of coping for. This was stated by legendary actor Michael Palin, one of the pythons in the comedy troop Monty Python.

"It is a common language that everyone can understand," he said at the Lahore Literary Festival (LLF) on Saturday.

Through book, author tries to improve Pakistan's image

Speaking at a talk titled 'Not a Nice Man at All', the writer, actor and documentary maker best known for his work on Monty Python and travel documentaries, talked about his experiences. The session was moderated by Pakistani novelist Kamila Shamsie.

Talking about his life and early years, Palin said he was raised up in the post-World War era. He recalled that those were indeed bleak times and satire was the type of communication he turned to. He shared his fascination with films and comedy from an early age. "I had a love for Jerry Lewis, Elvis and radio comedy shows and these absurd things fascinated me in a post-war Britain". He stressed satire was needed more today that never before. He said comedy and laughter were common languages for all.

He spoke about his work on Monty Python and the term Python-esque. Palin said he loved the fact that the troop's work was grounded in absurdity. The actor said he loved things not having a point.

Communist 'fighter' who founded SIUT

The comedian said that in everyday behavior, people do certain things, which if thought about, would be seen as ridiculous. He discussed the ridiculousness of human behavior, saying Monty Python became so popular worldwide because it did not try to impose anything on anyone.

Talking about his works as a novelist and what the future could hold, Palin said he found that writing a novel was a hard job, but wanted to continue in this stead.

Palin engaged with the crowd, sharing stories about working on Monty Python and shared personal experiences.

Published in The Express Tribune, February 26th, 2017.
COMMENTS
Comments are moderated and generally will be posted if they are on-topic and not abusive.
For more information, please see our Comments FAQ