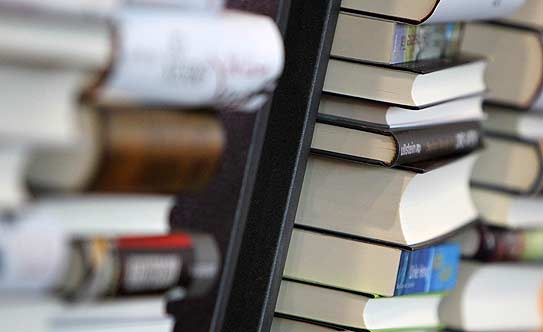 ---
LAHORE: For a country with serious image problem, American author Kelsey Hoppe wants to change how the world sees and thinks about Pakistan with her latest book.

'In Lahore: A Contemporary Guide to the City' was launched on Saturday at the Lahore Literary Festival (LLF) 2017, which has been cut short to just one day owing to security concerns.

"I hope the book helps in letting people know that this country is a place of hospitality, amazing food, shops and ancient history rather than just news of terrorism," Kelsey said while talking to The Express Tribune.

Fate of Lahore Literary Festival hangs in balance

Having lived in Lahore for three years with her husband, the writer was inspired to write a travel guide for the city after realising there was not much literature available for visitors about shops and restaurants, historical sites or art and culture. "I wanted to collect as much information as possible and write a book so that people can get to know Lahore better," she said.

While the book has been written basically to help foreigners travelling in Lahore, more and more Lahori'ites have pointed out to the author that even they did not know about several places mentioned in the book.




"The book is as useful for locals as it is for visitors," Kelsey said. "Some of my friends have bought the book for their families back in the United Kingdom and America for reference when they visit the city later."

Sharing some of her personal favourites about Lahore, the author says that besides liking many things, she particularly enjoys visiting the Wazir Khan Mosque and Man Mir Shrine as well as having the typical breakfast of channa-puri at the Gawalmandi food street.

In the book's introduction, Kelsey writes that the rich amalgam that is Lahore makes for an immensely pleasurable visit, but provides some challenges when writing a city guide.

To start with, there has been no definitive historical literature produced on the city and many of the websites and books covering Lahore's past contradict each other on dates and places.

Lahore gears up for fifth episode of literary festival

"Restaurants and shops come and go with alarming regularity, so capturing them all is virtually impossible.

Inevitably the moment this is published, it will be out of date and there will be no shortage of opinions and arguments about why the best restaurant or shop was left out," Kelsey says.

She writes that anyone who visits Lahore with an open mind and the slightest sense of adventure will instantly be taken in by its charm and unfailing hospitality.

The photographs in the book have been taken by the author's husband Ben French and a friend Taimoor Baig.

Published in The Express Tribune, February 26th, 2017.
COMMENTS
Comments are moderated and generally will be posted if they are on-topic and not abusive.
For more information, please see our Comments FAQ