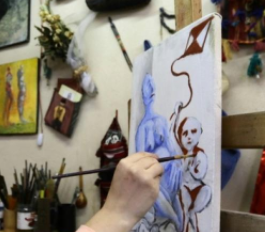 ---
LAHORE: Award-winning artist Molly Crabapple urged her peers to treat art as not just a thing of beauty, but as a refuge and a weapon.

Art, especially the kind produced during authoritative regimes, was the focus of discussion at a session featuring Molly. The session was called Art in the Age of Fascism on the first day of the Lahore Literary Festival.

The session was moderated by Salima Hashmi.

Molly said artists and power have gone together like bread and butter. "The artists are the gilders of lilies—the court painters of Versailles. They (artists) say a lot of liberal things, but in a language that only the most educated can understand; in rooms that cost more than most people's weekly wage to enter."

Through book, author tries to improve Pakistan's image

She continued that artists cannot ensconce themselves in wealthy or even liberal enclaves. "They cannot cede public space to the bigoted, the craven or the idiotic. Art must go out into the streets. It must speak to all classes of people, in all sorts of communities. It must break out of the art world because the world is too big and art too ambitious for it to be contained. It cannot keep being a mere a status marker or a luxury object. Bloated strong men want to say artists are part of the irrelevant elite. Prove them wrong; champion working class artists, writers," Molly asserted.

She further stated that to the authoritarian, artists are never real people. "They are always part of the fake, impure, decadent, disgusting elite. That's their lie. She said that artists' enemies (authority) want to lock them in a box.

"To give themselves legitimacy, authoritarians love to point to a simpler past. Think of Trump's make America great again slogan, Putin's revival of the Russian Orthodox Empire, Modi's Hindutva chauvinism Erdogan's neo-Ottoman fetish and ISIS's tomb-like Islamic state." She said these regimes were not only devoid of minorities, secular people and visible women, but of the learning, scholarship, beauty and culture civilisations have bestowed upon the world.

Communist 'fighter' who founded SIUT

"In their versions of history, there are no religious minorities. They tell stories of a golden time long ago time when men were men, women were women and the population was the same color and creed. Most of all, everyone knew they place."

She said that for these authoritarians, the past was neat, simple and clean. Molly added that in pursuit of this past, they justify the radical narrowing of the present. "And art operates best from these spaces of blurring, of impurity, of mixture and of flux."

To response in such situations, there was a need to make art and languages accessible to the working class. "Art is for everyone. All people want beauty, but art must be braver. It must dare more. Art must be both a refuge, and a weapon," she concluded.

Published in The Express Tribune, February 26th, 2017.
COMMENTS
Comments are moderated and generally will be posted if they are on-topic and not abusive.
For more information, please see our Comments FAQ