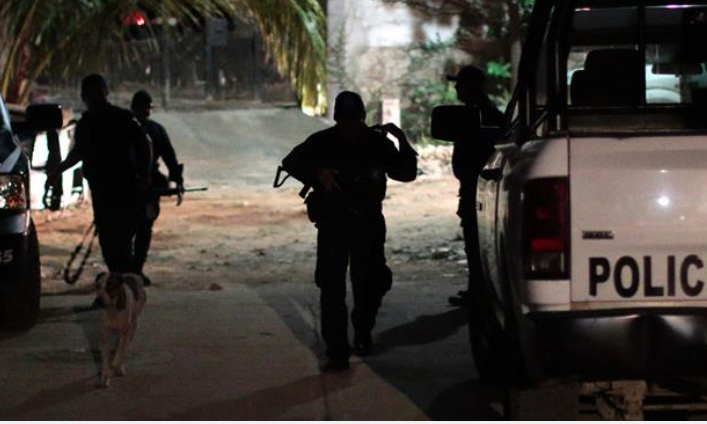 ---
MUZAFFARABAD: Officials in Azad Jammu and Kashmir on Saturday claimed to have thwarted a major terrorist plan after they arrested two suspects and recovered 80 kilogrammes of explosive material from a house.

A third suspect, police said, had managed to flee.

According to Kamran Ali, the senior superintendent of police (SSP) in Bagh, police received a tip-off about two suspects living in a rented house in Nomanpura, Bagh district of AJK, some 120km from Muzaffarabad.

Police raided that location and arrested the suspects, identified as Raes Gul and Muslim Khan. Both hailed from the Dargai area of Malakand in Khyber-Pakhtunkhwa.

Swat police arrest 20 suspected militants

"We have been trying to track where the two suspects managed to procure the explosive material and who was the main supplier," SSP Ali said.

"A third suspect, Abdullah Khan, who escaped from the scene during the raid is still at large," he added.

"A special police party is searching to arrest him."

The official added that of the 80kgs of explosive material which they recovered, around 50kgs were in a state where they could be used immediately.

Regarding the source of the explosives, he said that the mining and road construction sectors use explosives to blast through large rocks. However, these sectors are highly regulated and every kilogramme of the explosive is recorded and accounted for, he explained.

Police arrest two suspects outside district court Islamabad

"People engaged in mining and road construction activities in the area are allowed to keep explosive material for blasting with a special permit issued by the authorities," SSP Ali added.

He said that they had registered an FIR against the suspects and very soon they would be presented before the court for judicial remand.

Published in The Express Tribune, February 26th, 2017.
COMMENTS
Comments are moderated and generally will be posted if they are on-topic and not abusive.
For more information, please see our Comments FAQ