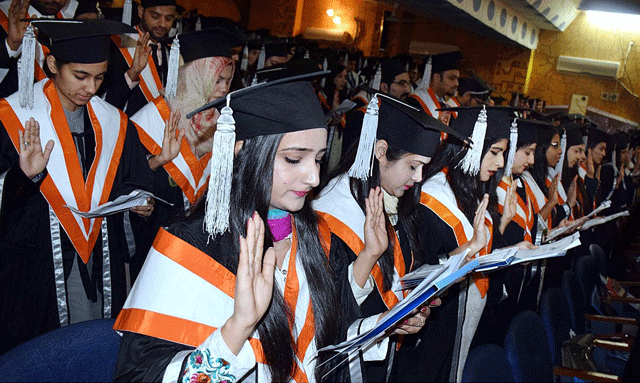 ---
HYDERABAD: The recent terrorist attacks in Sindh have necessitated tightening the security of yet another border zone. The porous and poorly manned Sindh-Balochistan border is providing an unimpeded movement to the terrorists, said Chief Minister Murad Ali Shah on Saturday.

"The terrorists are taking advantage of two separate provinces by carrying out attack in one and escaping to other. We have to end this," he said while talking to the media at Liaquat University of Medical and Health Sciences, Jamshoro, where he attended the varsity's 16th annual convocation.

As many as 419 undergraduate and 124 postgraduate students were awarded their academic degrees and diplomas on the occasion.

Sindh CM tells law enforcers to step up crackdown

"We are trying to formalise a system so that across the [provinces], SSPs can [have] daily telephonic conversation and share information." He added that his government has also spoken to the paramilitary forces in Balochistan about security.

'No Daesh in Sindh'

Shah denied that a network of Daesh is operating in Sindh, saying that different terror outfits cooperate with each other in executing the attacks. "People need to be careful in their activities [in the wake of ongoing wave of terror attacks]. But we can't allow fear of terrorism to impede our movement," he said, adding that he has not restricted his activities.

Terrorists in PPP?

The CM was asked to explain the Pakistan Peoples Party's connection with terrorism as some elected local government representatives of his party were arrested from Dadu and Khairpur districts after the Sehwan blast. "Any person involved in terror[ism] may belong to any political party but they wouldn't be spared."

Dissatisfied with govt doctors

Talking about health issues, Shah reiterated that his government will continue to hand over public hospitals to private administrative control and expressed dissatisfaction with the government doctors. "I lost my temper in a meeting with the health officials," he said, referring to a recent meeting whose agenda he did not share.

Sindh to begin 'grand operation' against militants, terror outfits

He said he has told the health secretary, Dr Fazlullah Pechuho, that he wanted the doctors to let go of administrative positions and dedicate themselves to the practice of medicine.

"I hope the new doctors [graduates at the convocation] will act differently," he said, addressing the graduates.

Evading response

Shah evaded response to LUMHS Vice-Chancellor (VC) Prof Dr Noshad Shaikh's request for his government's help in establishing a 500-bed teaching hospital in LUMHS as well as a pharmacy college.

Nonetheless, he expressed hope that the Bilawal Bhutto Medical College, which has been established by LUMHS exclusively for male students, will become functional soon.

"We planned to set up a 500-bed teaching hospital [in the premises of LUMHS] but it couldn't materialise because of no allocation of [annual development plan] ADP," said Prof Shaikh. "The matter of [the] pharmacy college is also pending."

The VC requested the CM to approach the federal health ministry for early commencement of Bilawal Bhutto Medical College.

Women take the lead

As many as 419 undergraduate and 124 postgraduate students were awarded their academic degrees and diplomas on the occasion. Boasting a high number of female graduates, the VC said that among the total of 543 graduates, 327 were female.

The top positions in both the MBBS and BDS departments also went to female students. MBBS graduate Dr Maram Kaimkhani was decorated with seven gold medals while Dr Hira Asif of BDS received 12 gold medals.