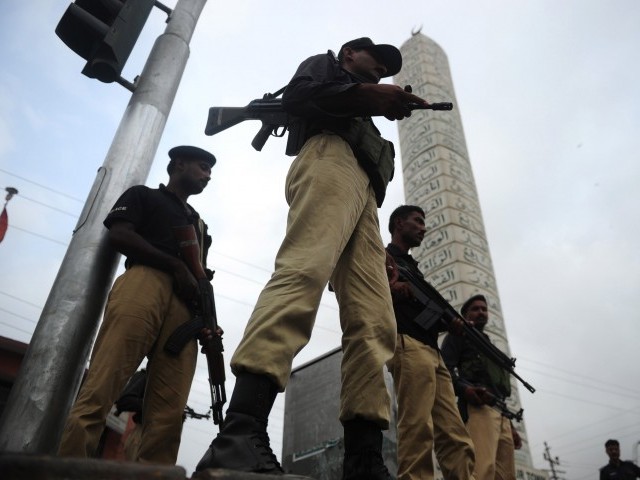 ---
KARACHI: The Counter-Terrorism Department (CTD) of the Sindh police claimed to have arrested on Saturday three suspects affiliated with a political party while also recovering a huge cache of arms and ammunitions.
Addressing a press conference at Police Headquarters, Garden, CTD SSP Omar Shahid Hamid said the CTD police arrested three men after an exchange of fire in Jafar Tayar Society in Malir when a joint unit in-charge of a political party was trying to dump arms and ammunitions at a graveyard.
The recovered weapons included six Kalashnikovs, a light machine gun, six repeaters, two 7mm rifles, five pistols and hundreds of ammunitions. The arrested men were identified as Anwar Hussain, Asif Mumtaz and Khurram Sheheryar.

Behind bars: Counter Terrorism Department arrests 'target killer'
SSP Hamid said the recovered weapons were linked to a huge cache of arms and ammunitions that was seized from Azizabad a few months ago.

Sehwan bombing investigations
Sharing details about the progress in the Sehwan bombing, Hamid said that questioning with the detained suspect, Usman, is underway.
The group involved in the Shikarpur and Khanpur bombings was believed to be behind the Sehwan bombing, he said.

Suicide bomber of Sehwan blast identified, says Sindh IG
Replying to a question about a key suspect, Hafeez Brohi, the officer said that Brohi has links with terrorists in Balochistan.