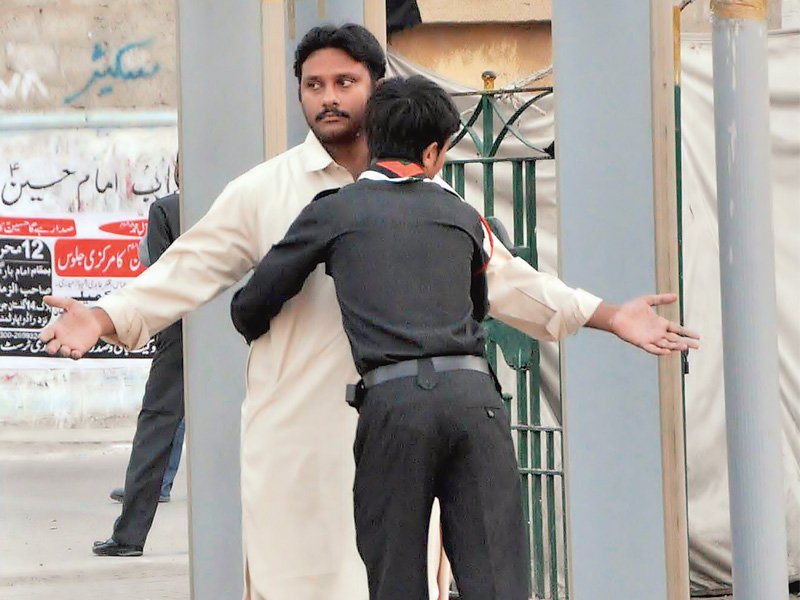 ---
LAHORE: All the six walkthrough metal-detector gates installed at district courts in Lahore have been found to be dysfunctional.

The Lahore High Court has provided the walkthrough gates for installation at its subordinate courts to enhance security in the wake of a string of bombings across the country.

However, after the security gates were installed at the relevant points, they were found to be not working.

Police officers deputed at the district courts complained about the matter to senior civil judge Syed Abbas Ali, who contacted the LHC registrar. The LHC has now promised to send new walkthrough gates to the district courts.

While talking with The Express Tribune, the policemen voiced concern over the security arrangements at the district courts, especially at the civil courts in Aiwan-e-Adl, which are deemed the most vulnerable.

They complained that no walkthrough gates were installed at the cooperative building while the one at Aiwan-e-Adl's gate, adjacent to the cooperative building, was not working.

The policemen lamented that no proper arrangements were in place at the lawyers' chambers at Model Town courts from the side of the railway tracks.

The road, between Aiwan-e-Adl and senior civil judge court's complex, blocked for any movement has no surveillance camera while the cameras installed inside civil courts capture low-quality footage that cannot be used to identify suspects.

Judge Abbas Ali told The Express Tribune that the LHC had been informed about the defective walkthrough gates upon which the high court had assured of giving new ones.

About the poor state of CCTV cameras, he said negotiations were under way for installing new cameras for improving security arrangements.

He also confirmed that the lone walkthrough gate, installed at Aiwan-e-Adl, had not been working for long. But it will be replaced with a new one in the coming days, he added.

The Lahore Bar Association representatives are also apprehensive about the security measures. LBA President Chaudhry Tanveer Akhtar said he had given a lot of proposals about enhancing security at the courts but only some of them were adhered to.

Expressing satisfaction over the security arrangements at district and sessions courts, SP Security Abadat Nisar said the security arrangements depended upon the lawyers' cooperation with police.

More 30 police officers are deputed at district courts to deal with any law and order situation. The LBA has also deputed over 50 volunteers and provided them reflective jackets for easy identification.

The complex housing the cooperative building as well as the Aiwan-e-Adl was vacated by the LBA on February 23 after the blast in DHA and rumours of another in Gulberg.

The normal hustle and bustle was absent on Friday at the district and sessions courts. Some lawyers gave mixed reactions over the absence of lawyers in courts, claiming some were busy in the LHC Bar Association elections while some did not come owing to the lawyers' strike.

Published in The Express Tribune, February 25th, 2017.